[:en]
[:en]DataFromSky delivers the data for the
models of tactical behavior of cyclists communicating their intentions
.
The research project focuses on modeling the behavior of bicyclists at intersections under complex traffic situations and interactions with motor vehicle traffic.
Bicycling is an important part of the urban transport system and traffic control measures are necessary to control traffic flow. The capacity and traffic quality of all traffic participants at signalized intersections can be highly influenced depending on the volume of bicycles.
Video data for this project were collected by setting up high definition cameras on the top of the buildings (to obtain suitable aerial view for the DataFromSky Aerial analysis) near several intersections in the cities of Munich and Freiburg in Germany. Explicit and implicit behavior patterns of cyclists at intersections in the video are observed. Explicit behaviors include bicyclists' body language to reveal their intentions like hand gestures or head movement. Implicit behaviors such as speed change, view change, or path change, indicate the lateral movement of cyclists indirectly. As for lane changing behavior and driving features, such as speed and positions, extracted by DataFromSky, the cyclist's path selection behavior at intersections is analytically described.
The analyzed video data results in a model that predicts the behavior of cyclists at intersections based on their explicit and implicit behavior patterns in specific traffic situations. The resulting model can be used for example for supporting tactical and operational functions of automated vehicles in specific traffic situations or as an initial analysis that can give traffic and urban planners a very good overview for proposing some traffic adjustments.
This research project, with the use of DataFromSky, is being carried out by Technical University of Munich in Germany, Department of Civil, Geo and Environmental Engineering, lead by Dr. rer. nat. Andreas Keler, Dr.-Ing. Matthias Spangler, created by M.Sc. Georgios Grigoropoulos and Niu Ruixin.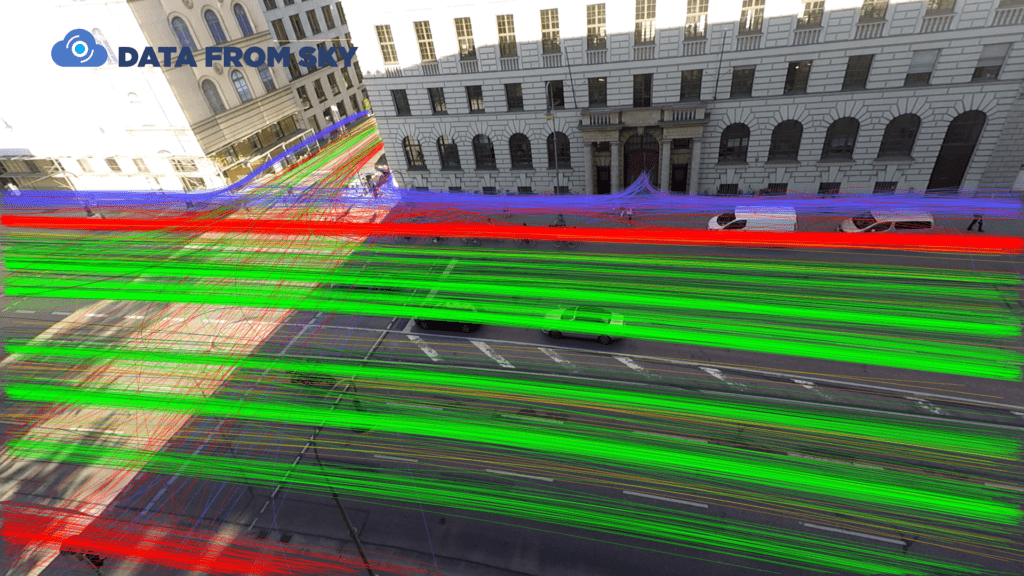 Traffic flow based on trajectries: green – cars, red – cyclists, blue – pedestrians
[:it]DataFromSky fornisce i dati per realizzare i
modelli di comportamento tattico dei ciclisti che esprimono le loro intenzioni
. Il progetto di ricerca si concentra sulla modellazione del comportamento dei ciclisti in presenza di intersezioni e in situazioni di traffico complesse, nonché sulle loro interazioni con il traffico automobilistico.
Il ciclismo è una parte importante del sistema di trasporto urbano, per questo sono necessarie misure di controllo del traffico per regolarne il flusso. La capacità e la qualità del traffico di tutti gli utenti che partecipano agli incroci segnalati possono essere fortemente influenzati del volume delle biciclette.
I video per questo progetto sono stati raccolti installando telecamere ad alta definizione nella parte superiore degli edifici (per ottenere una vista aerea adeguata all'analisi DataFromSky Aerial), vicino a diverse intersezioni nelle città di Monaco e di Friburgo in Germania. Nel video si osservano i modelli comportamentali espliciti e impliciti dei ciclisti in arrivo agli incroci. I comportamenti espliciti includono il linguaggio del corpo dei ciclisti per rivelare le loro intenzioni, come i gesti delle mani o il movimento della testa. I comportamenti impliciti sono ad esempio il cambio di velocità, cambio di vista o cambio di percorso, e indicano indirettamente il movimento laterale dei ciclisti. Così come il cambio di corsia e le caratteristiche di guida, ad esempio la velocità e le posizioni (estratte da DataFromSky), anche il comportamento nella scelta del percorso del singolo ciclista alle intersezioni è descritto analiticamente.
I dati video analizzati generano un modello che prevede il comportamento dei ciclisti in prossimità delle intersezioni in base ai loro comportamenti espliciti e impliciti, in situazioni di traffico specifiche. Il modello risultante può essere utilizzato ad esempio per supportare le funzioni tattiche e operative di veicoli automatizzati in situazioni di traffico specifiche o come un'analisi iniziale che può dare al traffico e ai pianificatori urbani un'ottima panoramica per proporre alcuni adeguamenti del traffico.
Questo progetto di ricerca, con l'uso di DataFromSky, è portato avanti dall'Università Tecnica di Monaco di Baviera in Germania, Dipartimento di Ingegneria Civile, Geo-Ambientale, guidato dal Dr. rer. nat. Andreas Keler, Dr. Ing. Matthias Spangler, creato da M. Sc. Georgios Grigoropoulos e Niu Ruixin.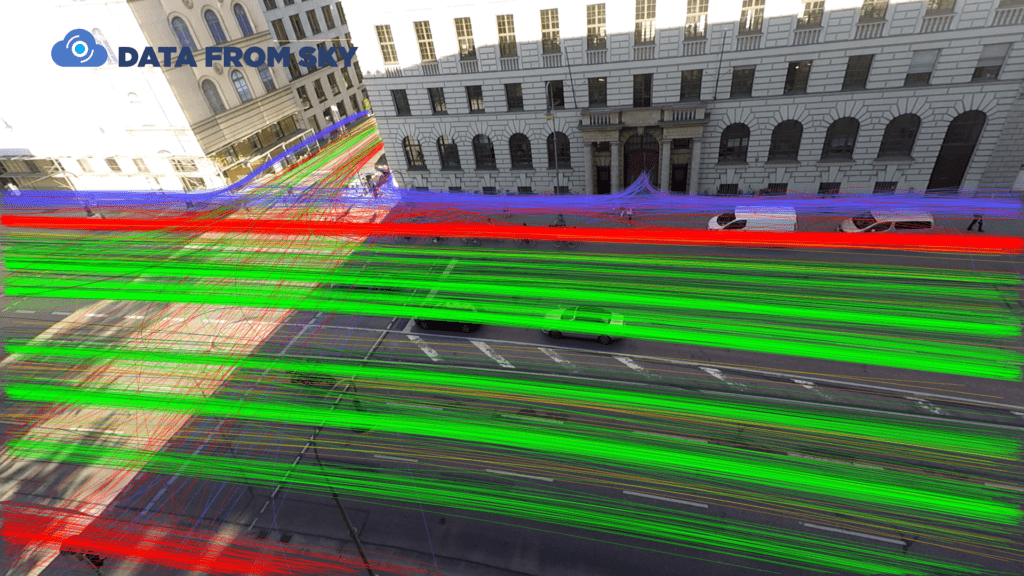 Traffic flow based on trajectries: green – cars, red – cyclists, blue – pedestrians
[:]
Read more