Traffic Monitoring & Counting
Convert your camera into a smart traffic sensor.
Count vehicles, monitor driver behaviour and detect all potential problems in time. Utilize drones, PTZ cameras or your current CCTV network. Embrace the future of traffic surveys.

Our state-of-the-art technology allows you to create custom smart sensors based on your needs.

Our solutions analyze behaviour of all traffic participants: vehicles, cyclists and even pedestrians.

Simple count is not enough. That's why DataFromSky video analytics provides you with precise data about each object's trajectory, speed and safety idicators.
Forget about old-fashioned inductive loops or manual counters and explore the unlimited possibilities of trajectory-based approach which combines AI and video processing. Get rich traffic insight about road user counts, categories, speed, direction and much more at any place you need in the camera view.

Welcome the new era of traffic analysis.
Set your own virtual gates and detection zones and obtain detailed information about each object's trajectory and movement. Try utilizing a combination of entry and exit gates to get a complex Origin-Destination matrix of the whole intersection or a deeper insight into Turning movement counts.
Feed your traffic models with rich and accurate data! With our solutions, you can easily export and import them to major simulation and engineering tools such as PTV Vissim. Give your data a meaning and plan precisely your next traffic expansion!
Sometimes you need a big picture to fully comprehend the situation. These challenging requirements are a piece of cake with our tools which make the cameras collaborative. Combine multiple drones or fixed cameras to cover huge areas and simply get the traffic data in the context of the whole city or road-network.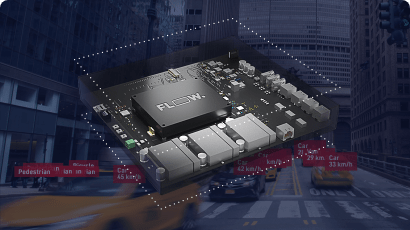 Convenient on-edge solution
Ideal choice for real-time applications.
This edge solution allows you to utilize counts, heatmaps, movement pattern monitoring or automated license plate recognition and get deep insights from several traffic cameras at once.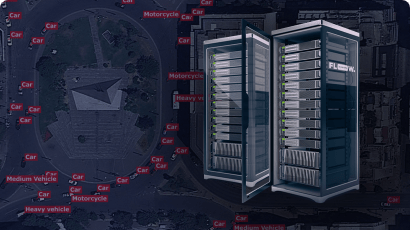 Large scale Inhouse solution 
Designed for large scale projects, this real-time inhouse solution is perfect for wiring your whole CCTV network.
Utilize complex statistics and data sinks for time series creation.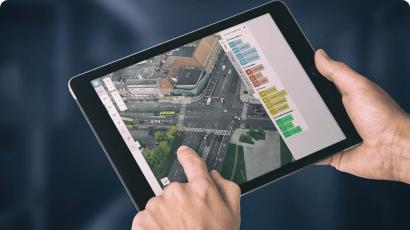 An excellent solution for post-recording analysis, equipped with advanced analytic tools.
Utilize O-D matrices, TMC, heatmaps or collision prediction and export your data for further simulations or presentations.
Let's discuss the best solution for you