An ultimate tool for the next generation of traffic surveys.
Infuse your simulation models with the most accurate real-world calibration data. Base the next major traffic junction redesign on rock-solid evidence. Let's improve the traffic together.
Advanced traffic analysis of video data
TrafficSurvey is a video-analytics platform for fully automated extraction of accurate traffic data using AI and machine learning methods.
Turn any camera into a smart traffic sensor and get valuable data from any traffic video for only 2,9 EUR/hour!
Fully automated
Traffic Video Analytics
TrafficSurvey can be used to analyze any video from intersections, roundabouts, highways, crosswalks, using any type of camera, in various weather conditions or day/night scenes.
Super-precise
traffic data from any camera
Combination of AI and image processing overcomes the limitations of traditional methods of traffic data collection and brings many new possibilities in the field of traffic analysis (speed, densities, traffic flow, safety analysis, distances).
Offline data
that you can edit at any time
Using our user-friendly and sophisticated desktop tool DFS Viewer, you can analyze the data up to every millisecond and display the analysis in the video.
Create an account on
DataFromSky AI platform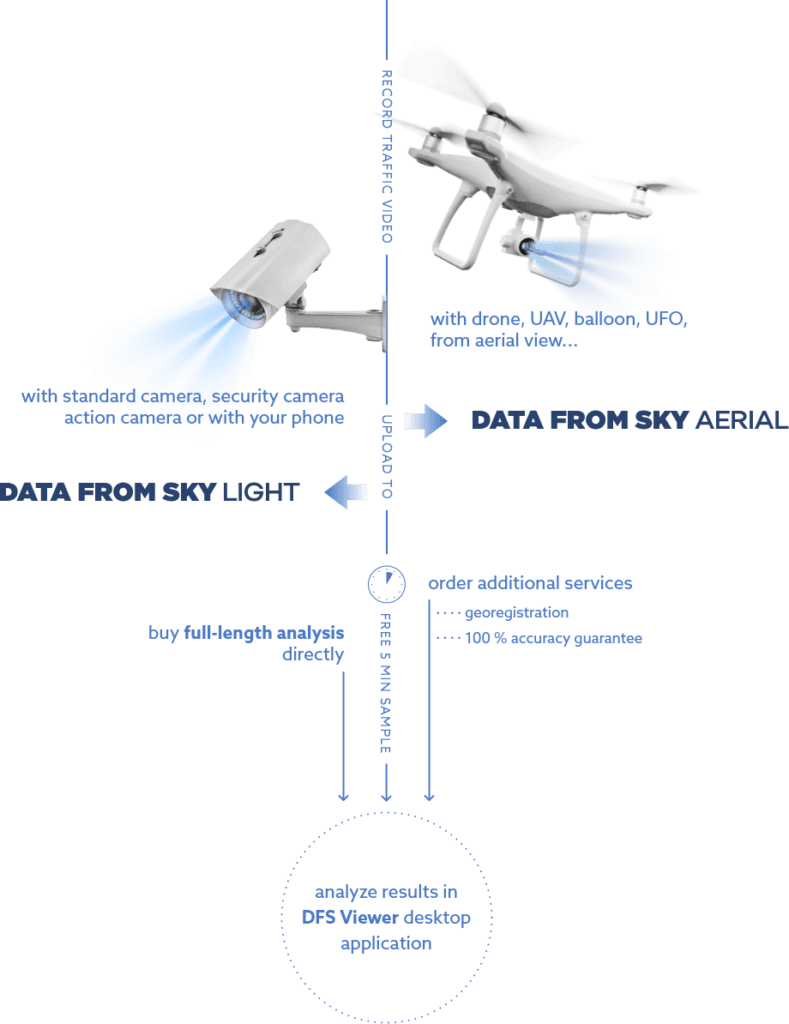 Traffic data
that you can rely on
Our proprietary AI is able to extract microscopic details from the video footage even under harsh conditions. Is it raining, foggy or middle of the night? Don't worry, we won't let you down. You can run your survey 'round the clock.
Comprehensive analytic solution
Detailed spatiotemporal data for each and every traffic participant in the video. Use our TrafficSurvey Viewer desktop app to extract a wide range of advanced traffic parameters.

Interactive video-based workflow
You can scrutinize each movement frame by frame. We believe in our outputs, so we don't hide behind statistics and averages. You can see everything for yourself.

You own the data
Fully under your control, GDPR compliant, you can download, store or share the dataset as needed. It is yours. Forever.

Certified
Safety Analysis
We reach outstanding 30 cm absolute accuracy in vehicle position. Combined with predictive kinematic models, we offer unique safety analysis of the traffic flow. We are able to detect collisions before they even happen. Certified by Czech Ministry of Transport.
Not sure which service to use? Check the differences!
Traffic Survey LIGHT
Fixed or temporary traffic cameras, mobile phones, drones below 50m altitude
5 minutes free processing sample

number plate recognition*
Traffic Survey AERIAL
Ultra-high-resolution footage from drones, helicopters, UFOs flying higher than 50m
5 minutes free processing sample
Still not sure which service is the right one?
Let's get in touch and we will help you out!
Interesting analyzed videos & use cases
Can you count all tuk-tuks, pedestrians and cars in this video? DFS Light can do it just in a few minutes! Traffic flow hitting the rate of 12 000 vehicles/hour, quite a traffic peak time in Rohtak, India!
In-depth traffic analysis of a roundabout near Dubai, UAE. Study of vehicles speed and acceleration, precise measurement of distances between all objects in the video, amazing heatmaps generated for velocity and acceleration profile.
Disrupting the traffic analytics field in 2013 by extracting precise vehicle trajectory data from aerial footage, we are a worldwide-recognized leader in the field, providing never-before-possible insights into traffic. Our partners include key players in the automotive industry, to whom we deliver super-precise behavioral data for autonomous vehicles. We serve transport and civil engineering companies, cities and municipalities, governmental agencies or research institutions in order to improve the traffic.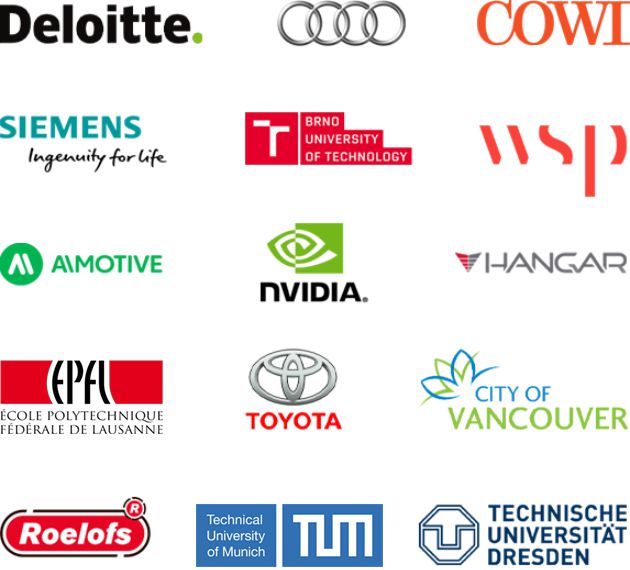 See how TrafficSurvey can move your research and simulation to the next level. Try it now for free. Upload any video with traffic situation and enjoy the breadth of information in a few moments.