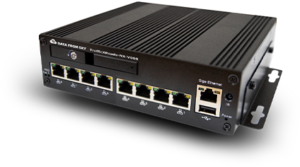 Turn your IP cameras into smart traffic sensors with TrafficXRoads and enable seamless object tracking in the entire intersection – directly in traffic controllers. Use TrafficXroads to adaptively manage traffic for better traffic flow, give priority to first responder vehicles and improve safety.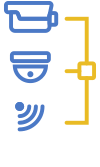 Multi-sensor tracking system
Fuse data from radars, cameras or lidars to get the continual trajectories of all traffic participants. Create the ultimate intersection sensor.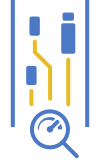 Exact traces, categorization, speed, waiting times, LPs and more. For any traffic scenario, at any scale. From a single event to long-term statistics.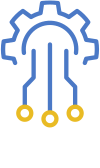 Realtime outputs for traffic controllers available via various data and physical interfaces – UDP, REST, SDLC, I/O modules.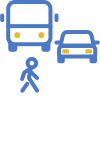 Fully visually programmable detection tasks using zones, gates, sequence and attribute filters allow it to react to any traffic situation.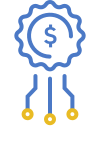 Non-intrusive, flexible, easy-to-install and configure multipurpose traffic eye at unbeatable prices. Excellent technology for every intersection in the city.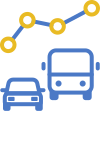 Many features for convenient use including data storage, live dashboards, dynamic anonymization, remote access, autosave, autoreboot, programmable outputs and more…
Seamless object tracking in the whole intersection
TrafficXRoads unit with built-in video analytic engine is capable of processing up to 6 camera streams in real-time. Depending on the configuration, the unit is able to reconnect the tracks between the individual sensors to provide entire trajectories, or compose the traffic data from several different sources to reach pinpoint accuracy in the overlapping areas.

All traffic sensors in one
TrafficXRoads provides a unified data interface to the traffic controller while it emulates hundreds of smart traffic sensors for hundreds of different detection tasks. It is a comprehensive and easily configurable system which can handle any intersection needs for dynamic control.
TrafficXRoads is an extremely cost-efficient and easy to install system allowing deployment of dynamic traffic control at every signalized intersection in the city. Traffic signal timing adaptively changing based on the current situation helps to increase the permeability, decrease the local emissions and noise, and improve the safety.
Compatible with any traffic controller
Thanks to the various available interfaces, the TrafficXRoads can be connected with almost any traffic controller (UDP, relays, SDLC). Whether it is a new crossroads or an upgrade of an existing one, the technology is very versatile and not dependant on the infrastructure.
Prioritize pedestrian and cyclist crossing
Multimodal video-analytic system reliably detects and tracks all road users including pedestrians and bicycles. Thanks to this, it is easy to create a detection zone for pedestrians waiting for a green light or send a signal to the traffic controller to extend the red light for cars while someone is still crossing the road.
Conflict free, high efficiency
It is not always achievable to create complete physical separation between vulnerable road users and motor vehicles. But with TrafficXRoads, the possibility of conflicts can be significantly reduced while accomplishing high throughput. This is possible by providing total traffic data to a traffic controller that optimizes signal timing so that different objects pass at different times or in different locations.

React on dangerous situation
Real-time traffic data from across the intersection allows you to increase the traffic safety at multiple levels. TrafficXRoads can detect possible traffic conflicts between vehicle-vehicle or vehicle and pedestrian and trigger the defined actions such as flashing warning signs, commanding the traffic controller to adequately changing the traffic lights or send V2X message via a road side unit.
V2X support - proactive safety
TrafficXRoads can directly command a road-side V2X unit (RSU) with the DEN messages based on the current traffic situation. Each vehicle equipped with an on-board V2X unit (OBU) can receive the information about the traffic situation and react accordingly.

TrafficXRoads captures reliable, accurate traffic data not only for smart traffic control, but also for smart city platforms and traffic surveys. Turning movement counts, volumes and classifications are easily retrievable via data interface or fully a customizable dashboard with interactive widgets and various export options.
Instant performance measures
The unit can be configured to automatically measure the performance of the intersecction using various metrics such as number of stops, average speed, average waiting times etc. The current values as well as historical data can be shared with 3rd parties via open APIs.

Reliable embedded unit with neural accelerator running the most advanced traffic intelligence designed to be installed in the traffic controller cabinet (DIN). With an built-in AI-based video analytic engine powered by FLOW it is capable of evaluating traffic situations from up to 6 sensors. The unit comes in two variants – the NX-V008 with 8x PoE ports and the B000 compact version without PoE ports. The unit supports over the air firmware updates (FOTA), and boasts with operating temperature from -20 to + 65 °C. Support for SSD, LTE modem or wifi module.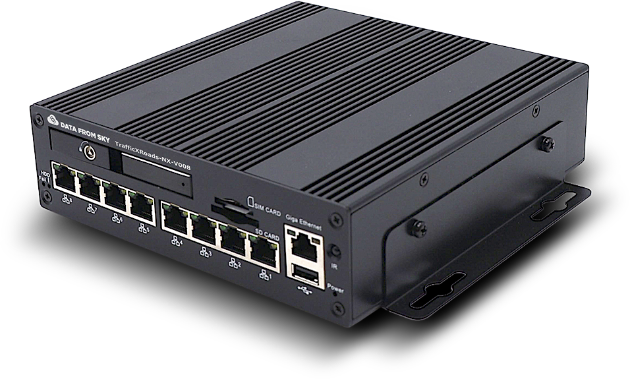 Built-in video analytic engine
TrafficXRoads unit is running the most advanced deep learning video-analytic engine capable of detecting, classifying, continuously tracking, and re-identifying all traffic participants (17 categories). This allows you to connect any IP camera and turn it into an advanced traffic sensor in no time. It automatically recognizes the LPs and colors of the vehicles. With add-on modules, you can also get seat belt detection and mobile phone use information.
All the accessories sensors and interfaces
TrafficXRoads is developed to be used in conjunction with any traffic controller.
Data communication is a standard (UDP, REST, WEBHOOKS) It can however be extended by SDLC interface and/or relay interface with up to 16 ports, including MOXA. We also support selected V2X RSUs – for generating messages.
The sensor can be any IP camera (you can rely on our preferred / tested models), our TraffiCamera with edge intelligence and / or radar from smartmicro – in any combination. We can also offer you the whole package – unit + sensors + interfaces – tailored to your needs. Just unpack, install and configure.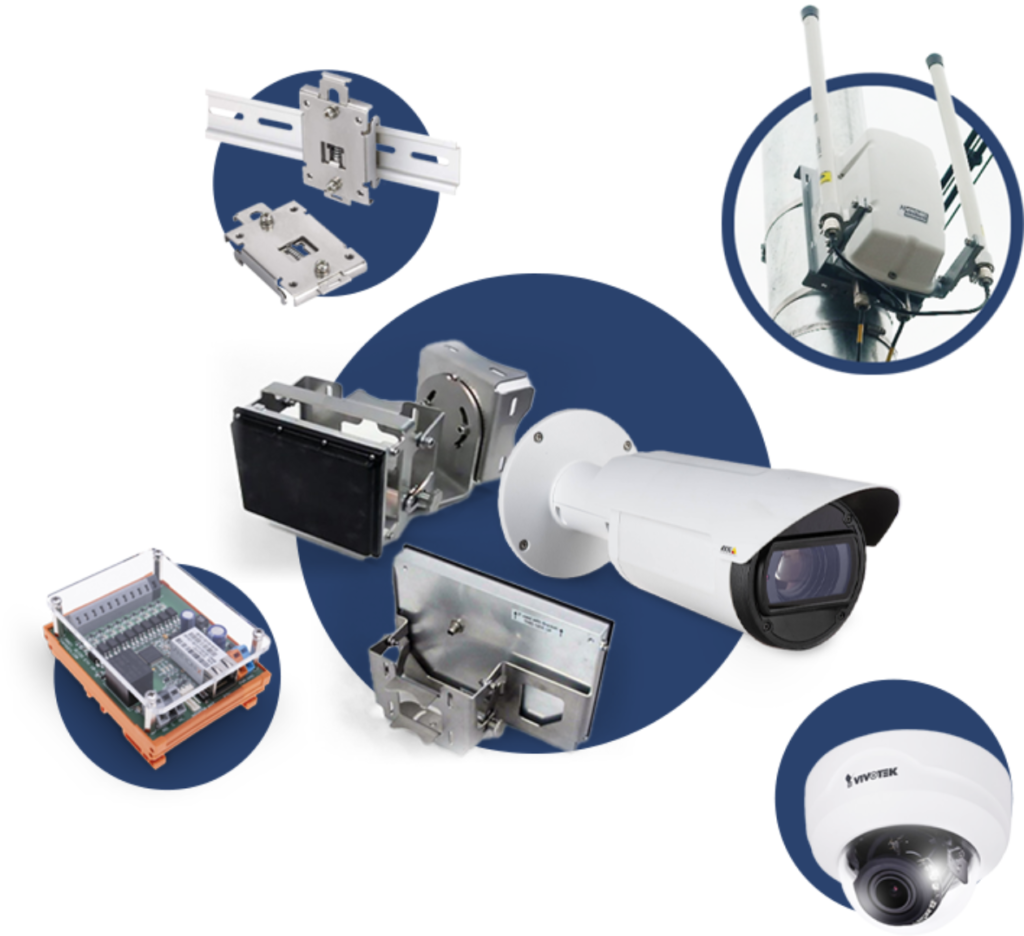 Configuration of traffic monitoring
Our powerful trajectory analyzer FLOW has a simple and intuitive user interface which allows you to remotely or locally setup a complete traffic monitoring system in a few minutes. Just add the radars/cameras and interfaces and create the traffic analytics on live scenes by defining zones, gates and other traffic filters via visual programming. Set the data outputs and/or the I/O logic reacting to the detected scenarios, and specify the performance measures – all in a fully interactive way.
No limits on number of zones, lanes or traffic events!
Smart choice for smart controllers
TrafficXRoads is an umbrella solution for traffic sensing at the intersections for adaptive control. It covers all possible traffic scenarios and can be easily adopted for any detection task. It allows you to combine multiple sensors in any configuration – triggering and/or fusing at the trajectory or traffic knowledge level. It is easy to set up and maintain. It saves effort by not implementing the communication stack and proprietary protocols. It was designed to boost the traffic controllers at every intersection as it is powerful, easy to install, and affordable, which simplifies the achievement of widespread adoption for the improvement of the traffic in the cities.
Are you an integrator or traffic controller manufacturer/developer? Would you like to test the performance of the system on your own installation or together with your hardware? Get a hands-on experience with our ready-to-use trial set ideal for T or X-junction that consisting of:
TrafficXRoads unit powered by FLOW
Four 2MP cameras with motorized lenses
Individual support of our technical experts
Go with the FLOW and become our technology and/or businesss partner!
Need more details on TrafficXRoads? Would you like to consult a specific project?