Deep
traffic video analysis
DataFromSky is a video-analytics platform for fully automated extraction of accurate traffic data using AI and machine learning methods. Turn any camera into smart traffic sensor and get valuable data from any video!
Advanced traffic analysis of video data
DataFromSky AI is a unique, globally trusted service, providing the super-accurate traffic data from videos either from drones or from standard cameras. It is capable of measuring a wide range of advanced traffic parameters thanks to the trajectory-based approach: analyzing current speed, acceleration/deceleration, classification up to 16 categories, safety analysis (measuring Time to Collision, Heavy Breaking or risky situations), configurable gate counting including O/D matrix, travel and occupancy times, headways, Gap time & Time to follow analysis, capacity estimations, various export functions and statistics and many more features…
Fully automated Traffic Video Analytics
DataFromSky AI can analyze any video footage from all types of intersections, roundabouts, highways, crosswalks, using any type of camera, in various weather conditions or day/night scenes.
Super-precise traffic data from any camera
Combination of AI and image processing overcomes the limitations of traditional methods of traffic data collection and brings many new possibilities in the field of traffic analysis (speed, densities, traffic flow, safety analysis, distances).
Offline data that you can edit at any time
Using our user-friendly and sophisticated desktop tool DFS Viewer, you can analyze the data up to every millisecond and display the analysis in the video.
Create an account on
DataFromSky AI platform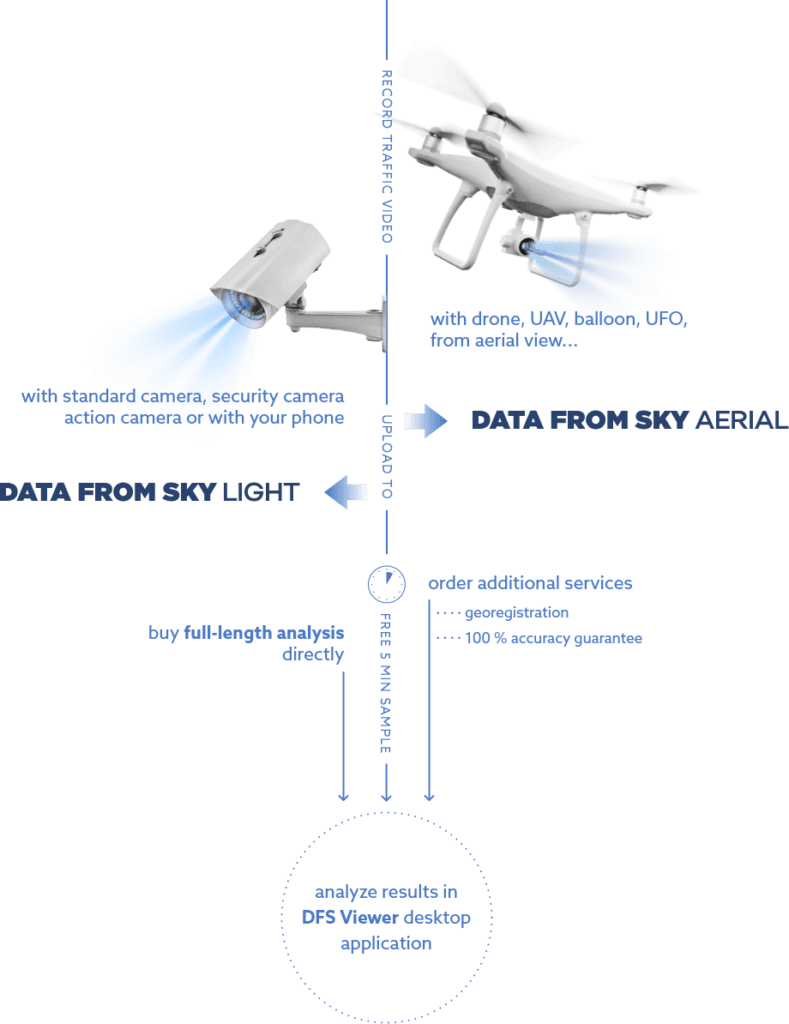 Not sure which service to use? Check the differences!
✔️ WARM UP YOUR TRAFFIC DATA by using HEATMAPS and GRIDMAPS! DataFromSky provides you many parameters displayed by heatmaps and gridmaps. Get them …
DataFromSky highly contributed to the creation of a research paper conducted by 🎓 Loughborough University in London. The paper presents a solution of …
The entire DataFromSky team would like to wish to all of our partners and customers 🎄 Merry Christmas and a successful and joyful …
Interesting analyzed videos & use cases
Can you count all tuk-tuks, pedestrians and cars in this video? DFS Light can do it just in a few minutes! Traffic flow hitting the rate of 12 000 vehicles/hour, quite a traffic peak time in Rohtak, India!

In-depth traffic analysis of a roundabout near Dubai, UAE. Study of vehicles speed and acceleration, precise measurement of distances between all objects in the video, amazing heatmaps generated for velocity and acceleration profile.

Go to ai.datafromsky.com to test the services on your own videos!
Download DataFromSky Viewer = desktop application for advanced data interpretation and visualization of processed data.
Don't have any videos for testing? Take some from our prepared datasets: sample video for DFS Light and sample videos for DFS Aerial.