One traffic framework. Any video source. All traffic tasks.
Everything you need for online / offline evaluation of traffic situations in cities, highways, parking lots, buildings… in one comprehensive platform which speaks many languages. The one traffic brain to rule them all.

Traffic translated into actions
Traffic understanding in milliseconds for real time-driven applications such as adaptive control of traffic lights or surveys. Truly open platform for integration with ultime responsiveness and extreme accuracy.

Design the meaning of smart
FLOW is not a simple sensor. It is like thousands of different sensors running in parallel and cooperating to give you an insight into the traffic. It is a framework in which you are the designer of the meaning of smart. So powerful, so generic.

Build for all thinkable scenarios
In many different forms, from edge to server-side solutions, from ground to drone monitoring. Any scenario you need can be configured to serve you and your purposes. Use any camera and create all possible scenarios to be used in a smart city.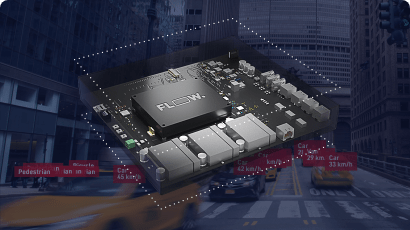 01. Get more from your camera
Turn any camera into a smart traffic sensor with built-in deep video analytics.
Smart AI traffic platform in the form of a wireless anti-vandal outdoor device with IP66, PoE, and GPIO ports is here! Control individual intersections locally with smart analytics and become the real-time traffic commander.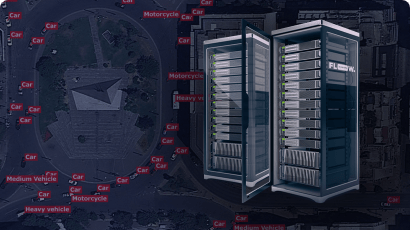 02. Make your city smarter again!
Convert any camera network to a real-time traffic intelligence for smart cities of tomorrow.
The sixth traffic sense running on your in-house AI servers is here! Discover the visual solver for all traffic tasks with a fully interactive interface. Become a master of smart city traffic.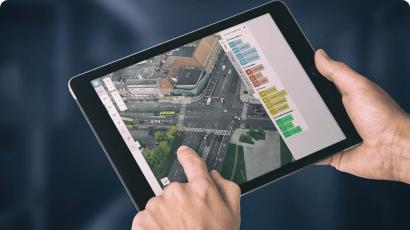 03. For any smart traffic application
Get detailed and advanced traffic analysis from any video data, whether from a drone recording or a fixed camera.
The most advanced post-recording analytics on the market with an unbeatable track record. Enjoy the most comprehensive toolset available with a reassuring 100% accuracy guarantee. Leverage our rock-solid data to design better traffic solutions.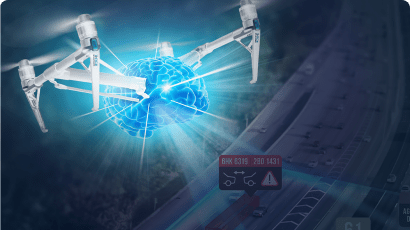 04. See the big picture with a bird's-eye view
Get complex data with our state-of-the-art aerial solution. Enjoy augemented live video with sophisticated traffic insights.
Acquire precise speed and distance measurement, time-gap monitoring, zone detection and many other features packed in an intelligent drone. Utilize highly accurate, real-time information to ensure safety and maximize drivers' comfort.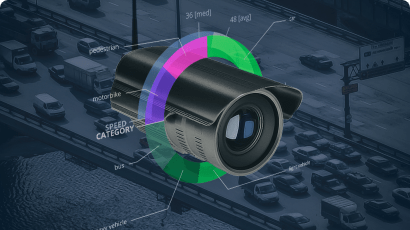 01. smart on-edge sensor at your fingertips
Enjoy rich data with a convenient plug & play solution. 
The traffic brain runs directly on your intelligent camera. Get sophisticated insights without the need for complex infrastructure or high-speed connection.
Complex traffic framework
FLOW is a fully interactive traffic framework designed for both real-time driven applications and comprehensive traffic surveys. The first tool ever which visualize traffic data live right at your fingertips. Take the advantage of automated actions on your traffic scenarios now!

Be sensor designer
Convert any video stream to the traffic sensor you need in seconds with an innovative visual traffic language. Super easy and super powerful. Just FLOW.
Data visualization & export
Create customized dashboards optimized for your traffic tasks using various widgets. Live and interactive visual presentation of traffic knowledge has never been easier.
Born for integration
Specify traffic knowledge to be published and in which form. FLOW supports various communication protocols based on UDP, REST etc.
Smart traffic starts with you.
Begin your DataFromSky experience now! Contact one of our solutions experts.