One traffic framework. Any video source. For all smart city tasks.
All that smart traffic needs in the one solution – FLOW. The fastest and smartest way to get the traffic knowledge from any type of video stream that smart cities love.

Visual solver for smart cities
for parking
for intersections
for public transport

For any type of video stream​
drones
panoramic cameras
multitracking environments

local smart city data-centers
AI cameras
embedded devices
Visual solver
for smart city tasks
FLOW is a visual programming traffic language designed for smart city applications such as traffic monitoring, traffic control, parking management, safety and much more. Turn any camera into super smart city sensor with FLOW. One sensor, multiple purposes.
Cross-video
traffic analytics
FLOW is created to be able to transform any video data to traffic knowledge in real-time. Drones, fixed cameras, panoramic cameras, recordings… all video sources can be easily processed by this universal and interactive tool for traffic data mining.
Runs everywhere
on any platform, any device
Developed to run everywhere – inside the camera with AI processor, in the traffic embedded devices, on the web, on the local servers or desktop computers, in the cloud. FLOW is true universal multi platform solution with unlimited scalability created for all types of architectures.
Cooperative cameras
traffic in the context
Multi camera multi object tracking environments are naturally supported in FLOW. Efficient data association and comprehensive intuitive visualization are essential for monitoring, understanding and improving the urban mobility.
Discover the FLOW product family: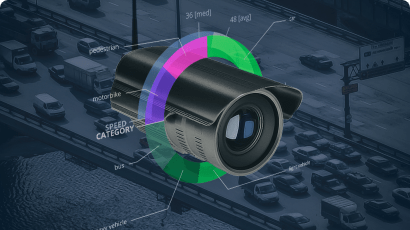 01. smart on-edge sensor at your fingertips
Enjoy rich data with a convenient plug & play solution. 
The traffic brain runs directly on your intelligent camera. Get sophisticated insights without the need for complex infrastructure or high-speed connection.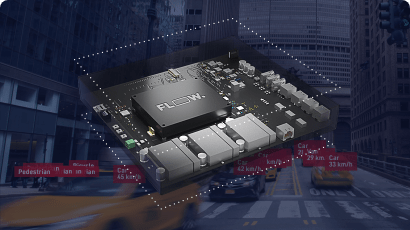 02. Get more from your camera
Turn any camera into a smart traffic sensor with built-in deep video analytics.

Smart AI traffic platform in the form of a wireless anti-vandal outdoor device with IP66, PoE, and GPIO ports is here! Control individual intersections locally with smart analytics and become the real-time traffic commander.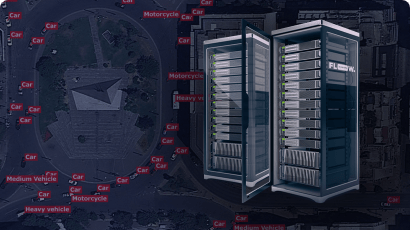 03. Make your city smarter again!
Convert any camera network to a real-time traffic intelligence for smart cities of tomorrow.
The sixth traffic sense running on your in-house AI servers is here! Discover the visual solver for all traffic tasks with a fully interactive interface. Become a master of smart city traffic.




Solve your traffic tasks easily with FLOW.
Automate scenarios to make systems efficient. Let your city be smarter.