Let your streets adjust to the current traffic situation
Smart cities understand the needs of their citizens. Optimize traffic flow and prevent
collisions thanks to the real-time FLOW framework.

Our solutions are designed to fit any project scale – from a single intersection enhancement to a whole city wiring.


Designed for multimodal traffic
The FLOW framework is able
to track down and react to the movement of every road user, including cyclists and pedestrians.


Cost effective &
flexible solution
FLOW is a customizable non-intrusive solution working on your current CCTV camera network.
Forget about old-fashioned induction loops – use smart video data instead. FLOW allows you to optimize the traffic influx based on the current level of service. Improve dilemma zone safety, implement signal priorities and green light extensions whenever needed. There is no limit to the number of virtual induction loops you create!
Reduce drivers' waiting time and make them reach their destination faster. Additionally, smoother traffic flow helps to cut down emissions, resulting in less pollution.
Improve road safety and save costs at the same time. Utilize adaptive traffic signs that react to the current traffic situation. Inform the drivers about estimated travel time and current traffic events via smart LED signs. Warn motorists about upcoming congestion, guide them with LED enhanced delineation or smart parking signs and prevent dangerous wrong way driving.
Protection of vulnerable road users
More than 720 000 pedestrians and cyclists die on roads each year. Many of those deaths can be prevented by better safety measures.

With FLOW, you can easily detect oncoming bikes or pedestrians near road crossings. Inform the drivers in time by LED enhanced signs and crosswalks and avoid collisions. Help save lives.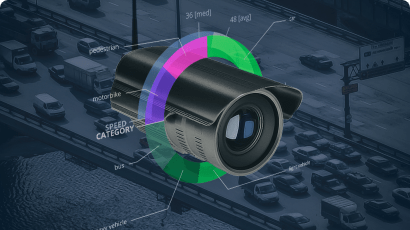 simple smart on-edge sensor
Enjoy rich data with a convenient plug & play solution. 
The traffic brain runs directly on your intelligent camera. Get sophisticated insights without the need for complex infrastructure or high-speed connection.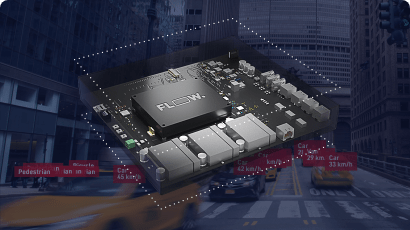 Powerful on-edge solution
Ideal choice for real-time applications.
This edge solution allows you to utilize counts, heatmaps, movement pattern monitoring or automated license plate recognition and get deep insights from several traffic cameras at once.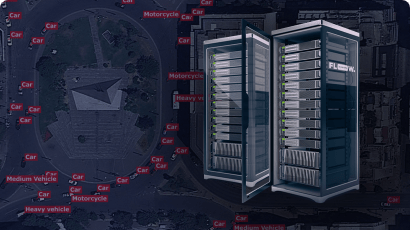 LARGE SCALE INHOUSE SOLUTION

Designed for large scale projects, this real-time inhouse solution is perfect for wiring your whole CCTV network.
Get useful real-time data of the current traffic situation in a whole city for adaptive traffic and road safety measures but also gather long-term data useful for infrastructure planning decisions.

Solve your traffic tasks easily with DataFromSky!
Automate scenarios to increase systems' efficiency. Make your cities smarter with FLOW.