[:en]Another great project has been accomplished, among other things, thanks to DataFromSky analysis! DataFromSky has made a
traffic study
of a corridor in the
city of Fairfield in Connecticut, U.S.
. The data were used for an extensive
Safety analysis
of the whole corridor called Black Rock Turnpike. The study, created by The Connecticut Metropolitan Council of Governments (MetroCOG) and
FHI
, identifies strategies to create a safe and attractive pedestrian environment, a robust infrastructure for bicyclists, and linkages between residential areas and the shops, businesses and restaurants along Black Rock Turnpike.
Black Rock Turnpike is a major arterial that serves one of the city's largest business and commercial districts. According to the estimates, approximately 20,000 vehicles utilize this corridor every day. As the results of the analysis show – although Black Rock Turnpike has a posted speed limit of 50 km/h (30 miles/h), the average speeds are between 55 – 65 km/h (35-40 miles/h). The road widths, speed, high traffic volume and numerous curb cuts create an unsafe and uninviting pedestrian environment. Click on this link to read more about the whole project.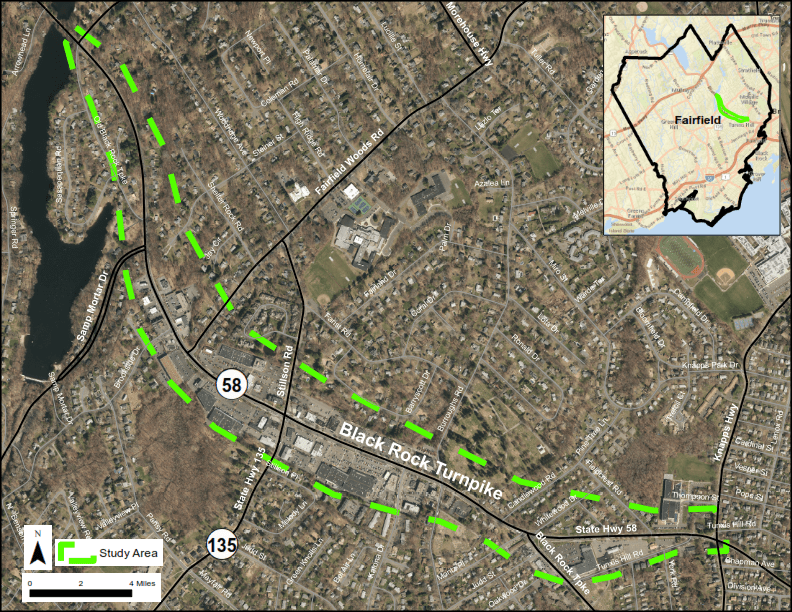 However, what is truly remarkable about this analysis is the method how the data were recorded and analyzed. To be able to cover the whole corridor, which is roughly 1,3 km in length, up to 8 drones recording at the same time were needed! This allowed us to analyze the corridor as a complex scene, obtain the complete trajectories of vehicles for the whole analyzed route and create the detailed Origin-destination statistics! What were the key conditions for the successful analysis?
top-down view position (bird's eye perspective)
space overlap – at least 10 % of overlap in the analyzed area from each side
time overlap – all the drones started filming at the exact same time
Take a look at the video of raw output of 8 drone videos merged together:
https://youtu.be/BJGigkkKUF0 [:it]Grazie all'analisi DataFromsky è stato realizzato un altro grande progetto, oltre i tanti già implementati! DataFromSky ha eseguito uno studio di traffico di un corridoio nella città di Fairfield in Connecticut, U.S. I dati sono stati usati per un'estesa analisi della sicurezza dell'intero corridoio denominato Black Rock Turnpike. Lo studio, ideato dal Connecticut Metropolitan Council of Governments (MetroCOG) e FHI, identifica le strategie per creare un ambiente pedonale sicuro e attrattivo, una solida infrastruttura per i ciclisti e collegamenti fra aree residenziali e negozi, attività e ristoranti lungo la Black Rock Turnpike.
La Black Rock Turnpike è la più grande arteria della città che serve uno dei distretti più gremiti di imprese e attività commerciali. Stando alle stime, circa 20.000 veicoli percorrono tale corridoio ogni giorno. Come dimostrano i risultati delle analisi, nonostante la velocità massima consentita sulla Black Rock Turnpike sia di 50 km/h (30 miglia/h), le velocità medie si allocano nell'intervallo tra i 55 e i 65 km/h (35-40 miglia/h). Le larghezze dei vari tratti di strada, le velocità, gli alti livelli del traffico e le numerose svolte creano un ambiente pedonale pericoloso e non invitante.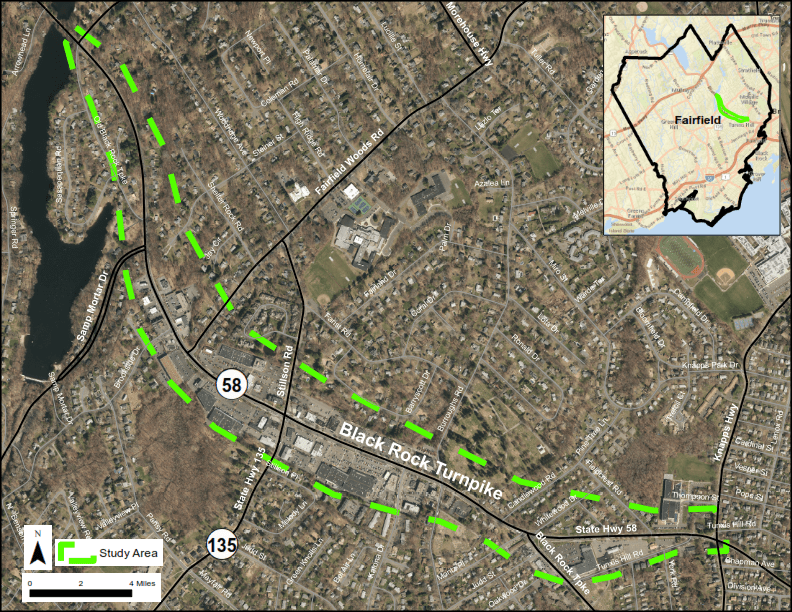 In ogni caso, ciò che è degno di nota in questa analisi è il metodo applicato, ovvero le modalità con cui i dati sono stati raccolti e analizzati.
Al fine di riuscire a coprire l'intero corridoio, lungo circa 1,3 km, sono stati impiegati fino a 8 droni in contemporanea, quando necessario. Ciò ha consentito di analizzare il corridoio come una scena complessa, ottenendo le traiettorie complete dei veicoli per tutta la strada in questione permettendo la determinazione di tutte le statistiche relative ad Origine-Destinazione.
Quali sono state le condizioni per compiere una analisi tanto sorprendente?
1. Vista dall'alto verso il basso (prospettiva a volo di uccello);
2. Sovrapposizione dello spazio – almeno il 10% di sovrapposizione nell'area analizzata, da ogni lato;
3. Sovrapposizione del tempo – tutti i droni hanno iniziato la ripresa nello stesso esatto momento.
Video:
[:]