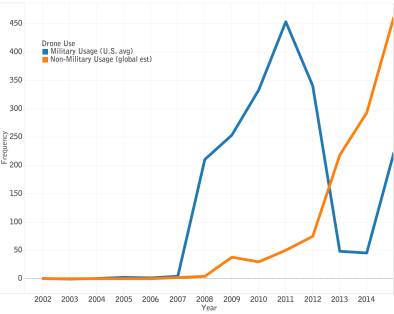 Good Drone Lab at University of San Diego published recently an interesting open access "book" titled "Up in the Air: A Global Estimate of Non-Violent Drone Use 2009-2015". The report is inevitably US-centric due to use of English language news as data sources, but there are several interesting facts listed in the book.
The two distinct questions the researchers asked are: (1) what is the nature of civilian drone use over time, and (2) what regulatory responses exist to use at the international, state, and sub-state levels. Some of the key findings are:
The year 2012 was a breakout period that saw non-military use overtake military use.
Commercial, emergency services, health and public safety, and environmental conservation sectors are growing.
Legislation is sparse and uneven, but growing.
Most regulations focuses on controlling weight, altitude, distance, no-fly zones, and operator certification.
There is no consensus policy on non-military drone use.
One thing is clear, commercial use is skyrocketing and does not seem to be slowing down any time soon.

Up in the Air_ A Global Estimate of Non-Violent Drone Use 2009-20.pdf
NTIA UAS Privacy Guidelines
Another recent development comes from the US National Telecommunications & Information Administration (NTIA), who arrived at a consensus regarding privacy guidelines for drone use. The resulting material was published under the name "Voluntary Best Practices for UAS Privacy, Transparency, and Accountability".
The very characteristics that make UAS so promising for commercial and non-commercial uses, including their small size, maneuverability and capacity to carry various kinds of recording or sensory devices, can raise privacy concerns. (…) Operators should use this technology in a responsible, ethical, and respectful way. This should include a commitment to transparency, privacy and accountability.
The published material contains a number of concrete recommendations. The voluntary best practices encourage UAS users to:
inform affected persons of UAS use and the collection of data;
take care in the collection and storage of information that identifies a particular person;
limit the use and sharing of such data;
secure data; and
monitor and comply with the law as it evolves.
This topic resonates strongly with what we learned about use of aerial video as our business grew, and thus may be of interest to our readers and followers. Some of the privacy concerns are mitigated by the resolution of video that we collect. Arguably, it is impossible to identify people and vehicles since faces and number plates are less than 10 pixels. Of course, combination of the video with other data source is possible.
A more pressing concern is that video from above allows us to see otherwise private places such as walled-in gardens, backyard, roofs, patios… In response to this, we added anonymization functions. We handle videos sent to us with care and use encryption to allow only key team members unrestricted access to complete imagery, when needed during processing.
For the rest, such as informing the people in the area, we rely on the operators collecting video.

voluntary best practices for uas privacy transparency and accountability.pdf