Our solution can be used for tracking not only cars and various vehicles, but also for tracking other objects and traffic participants, for example pedestrians or bicycles. Our partner from Denmark – traffic engineering company COWI – is currently studying and analyzing the behaviour of traffic participants in surroundings of schools and kindergartens in Denmark by using DataFromSky for the analysis. It would provide a new and systematic overview of the situation during the morning peak hour, when many students arrive to school at the same time. More detailed, they are searching for some inappropriate and dangerous behaviour of road users and other participants of the traffic, which includes all the parents driving their children to schools, school buses, bikes, motorbikes, other vehicles passing by the neighbourhood and all the pedestrians. Based on this analysis it is easier to formulate some proposals of changes which should be adopted by schools to protect the safety of schoolchildren. This analysis can also lead to better decision making done by municipalities, whether to build a new crossing or add some safety features etc.
If you want to read more about this analysis and its application, visit this website, where you can find the whole article: https://cowicitycreators.wordpress.com/2017/02/22/hvor-farlig-er-skolevejen-naar-vi-ser-den-fra-luften/#more-2643
An example of mapping the behaviour of traffic users is shown in the pictures below, where different user types have different color and each line shows the traffic flow for one trajectory.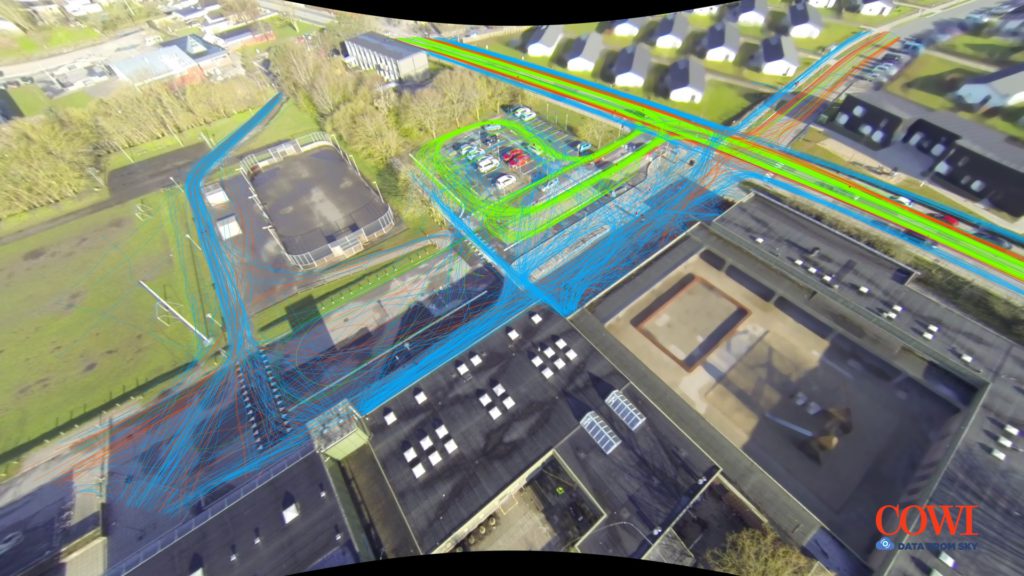 (2.)
Picture: Before (1.) and after (2.) changes: Each line shows one trajectory. Pedestrians (blue), cyclists (red), drivers (green).