Extending the use of smart video analytics in the USA with FLOW - TrafficXRoads
We are at a time when many municipalities and public road management organizations are starting to explore or re-explore the use of video analytics to examine its current capabilities and for very good reasons! Video analytics technology has made massive progress thanks to improvements in hardware with a new generation of NVIDIA and INTEL chips, and massive leaps in the development of deep learning algorithms and computer vision. The result? A very price-competitive traffic sensing solution that can not only do the job of "inductive loops" better but offers many other functionalities like visual inspection, the ability to create an unlimited number of "virtual inductive loops" in a single camera view and can also detect as many as of 16 object classes. Flow is born with the capability for LPR and traffic violation detection and enforcement and much, much more. Knowing this, it is obvious why video analytics solutions such as FLOW are starting to make waves in the ITS world. 
In this article, we provide a quick overview of the current state of the US market and showcase multiple projects of the FLOW video analytics devices deployment for various use cases including daily traffic operations, bicycle counting, adaptive traffic control and traffic data collection for planning and safety analysis.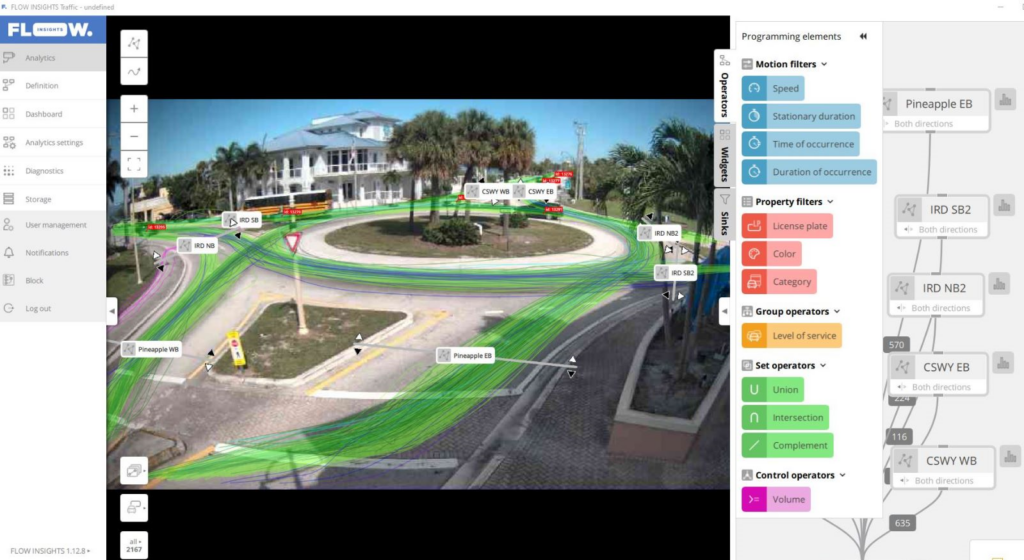 Videoanalytics setup in Florida with gates gathering Origin-Destionation data
The current status of US market traffic data gathering field
What are the current views on video analytics using the new generation of traffic sensing and data processing technology? To answer that we need to recall the past.  Legacy technology for the past 30+ years has driven much of definition of what is required for compatibility while limiting what is possible as a result.  For data collection, one legacy requirement of them is the approach to data storage.  Until now, because of limited choices for communications options, these organizations required a full year of onboard data storage on the specific traffic monitoring edge device.  New IoT technology has much better connectivity, allowing cities rapidly deploy devices and collect smart city data on updated aggregation platforms. These faster, real-time connections help to reduce latency, improve the data download and availability, and reduce the need for long periods between login and retrieval as well as improved aggregation and display of information. This new data management that relies less on local storage thanks to active data sending and server-side/user PC data storage.  
Smart sensors can also be dual purpose. The highly accurate FLOW analytics improve not only object detection in all types of weather, they provide non-embedded classification of both motor vehicles and expanded classes of active mobility road users.  Traffic operations requirements to accurately provide detections to the controller come hand in hand with the improved ability to report a rich data set of the objects characteristics while it passes within a camera field of view.  In the case of FLOW video analytics edge devices, this means the real-time data is fed directly to traffic controllers via NTCIP or open API via a network connection, in addition to classic SDLC or I/0 directly.  Simultaneously, the long-term traffic counts and various other traffic statistics are continuously being updated on servers, smart city platforms, traffic control center devices, and other systems that require this data. This happens thanks to the edge devices being directly connected to the city's network via Ethernet, WIFI, or LTE .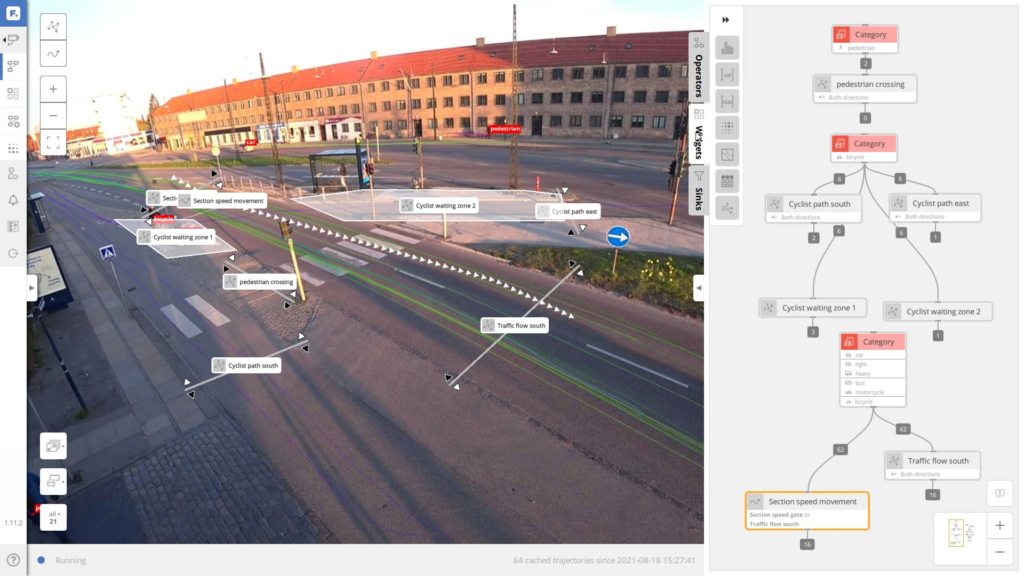 Example video analytics setup for gathering multimodal traffic data on cars, bicycles and pedestrians at the same time
The "trusted technology bias" is another factor that was holding back the onslaught of video analytics solutions on the inductive loop, radar detection, or analog camera counterparts. These technologies have been the only few trusted solutions for real-time traffic detection in the market for a long time. This is no longer the case. The video analytic detection capability coupled with the enhanced data set available overwhelmingly tipped decisions in favor of video-analytics-based solutions. A flurry of solid arguments and a growing number of successful deployments of the new generation of video analytics technology has proven the cost-benefit of improved accuracy, reliability, ease of installation, verification, connection, and remote monitoring of individual sensor performance is provided along with , massively expanded data set that are bringing new insights from the roadside cabinet that was never available before. Long gone are the "waiting for someone to call in the signal is not timed correctly complaint" with intersection performance measures are now something that is a tool readily available based on smart sensors and smart city applications.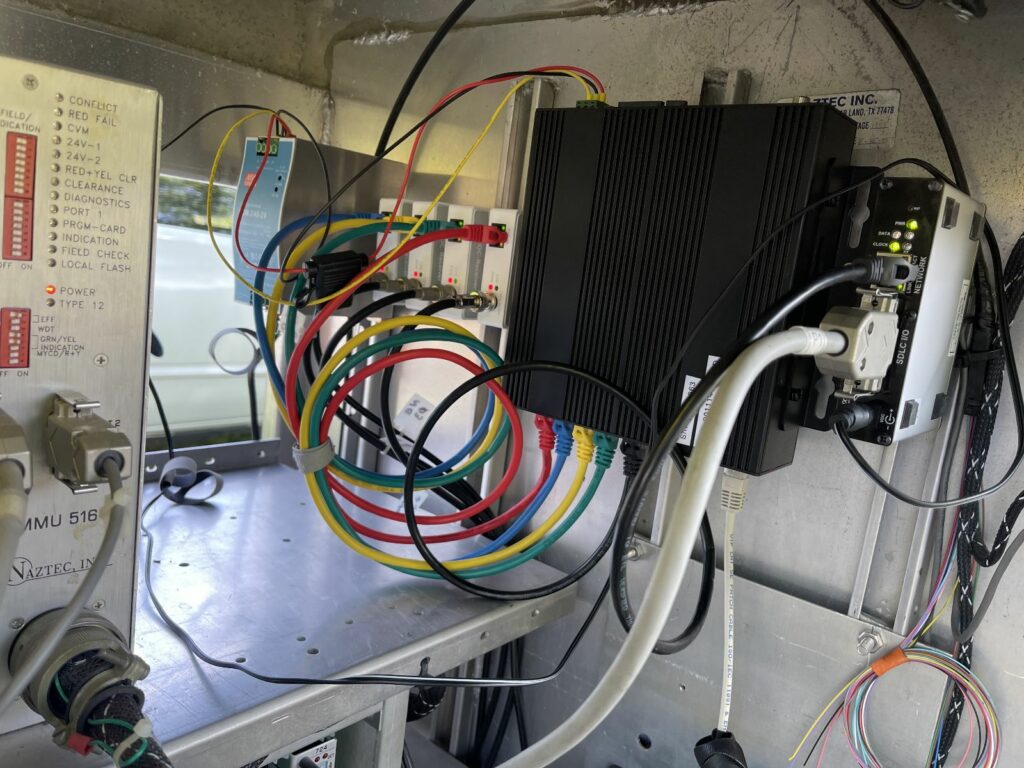 XRoads unit installed inside a traffic cabinet – analog to digital conversion of camera signal
TrafficXRoads is one of the flagship devices running the FLOW video analytics system. It is an embedded unit that can process up to 6 camera streams on the edge. There are already completed installations in Texas and Virginia, and multiple POCs in progress across the USA. This product has many benefits and is well suited for intersection detection, and traffic control input for daily operations coupled with traffic data collection as well as signal performance measures (SPM) input for planners. It is easy to do an initial proof of concept to reduce the time to installation and verification with TrafficXRoads as it can be usually done quite quickly using existing IP camera streams.  This reduces the delays associated with construction, road closure or other labor-intensive measures associated with testing a new system for approval.  Many agencies take direct feeds from their video management systems (VMS) remotely in TMC/Signal Shop office space without the need to go to remote cabinets. The TrafficXRoads can then be fully configured, tested, and verified prior to moving it to a field location for connection to a controller.  If data collection only is required, the same remote data feeds can be supplied to TrafficXRoads on a planner's desk aggregated to 48-hour or 72-hour counts without interrupting operations to collect data. 
The FLOW system on TrafficXRoads is also great for real-time 24/7 multimodal traffic for input into controllers and verification of bicycle lane usage at intersections. It also allows nearly perfect adaptive traffic control with advanced conditioning such as LPR whitelisting of emergency vehicles or increasing safety by prolonging signal durations when pedestrians are still crossing. The multimodality of the FLOW is seen as a massive benefit by many municipalities as time-based red-light running statistics, Vulnerable Road User conflicts and near misses can be detected, consolidated reports prepared, and acted upon before accidents happen helping with Vision Zero and safety analytics-based studies.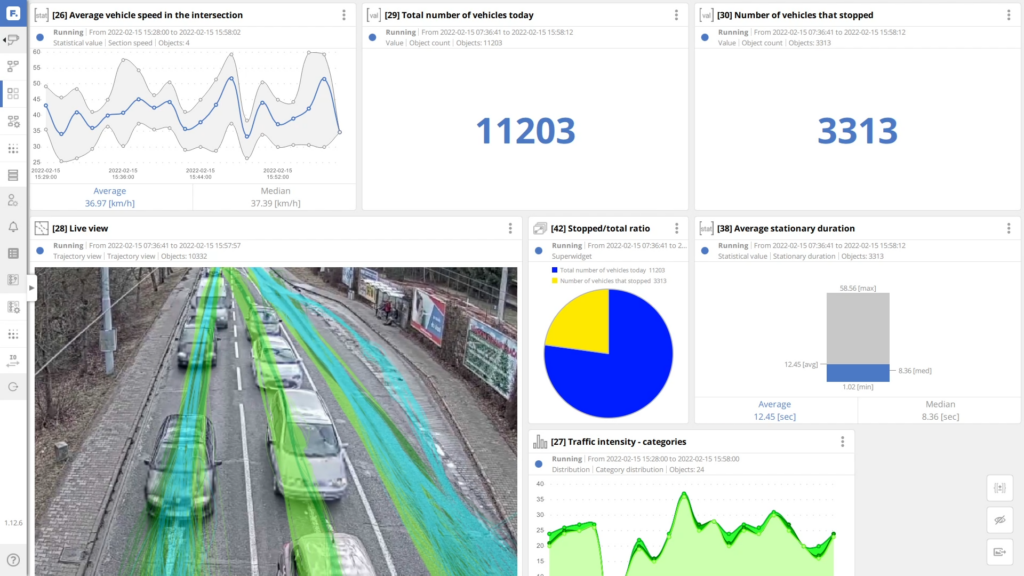 Example dashboard with data for tracking tracking the effectiveness of adaptive traffic control with focus on the reduction of the number vehicles that need to stop at the intercetion
Of course, turning movement counts and OD matrix statistics are available for download as well. For increased security, all operations can reside behind an agency firewall with no cloud access or off-premise connectivity required. Moreover, this solution is very, very price competitive. This is because compared to rival solutions, FLOW offers a wide range of advanced features that they don't have while being the same or even lower price than the competition. There are no required ongoing Software as a Service charges but additional version updates with new features can be purchased. Note that the client gets the most up-to-date major version upon installation and has free updates for the pre-determined period) Achieving the desired real-time communication with FLOW devices is easy thanks to many options, including Open API, SLDC, Webhooks, I/O modules, and can communicate out of the box with NEMA TS-2 or NTCIP standard-based traffic controllers. REST and UDP sinks can also be used to communicate with third-party data collection platforms. 
Additionally, there is a standard DatafromSky FLOW Insights user interface, whether you are using TrafficXRoads at the intersection, a stand-alone TrafficCamera for a particular study, or the TrafficEnterprise server system analyzing hundreds of streams for ITS applications or smart city operations.The TrafficEnterprise server-side solution is well-suited for connecting large numbers of video streams of existing camera infrastructure. It can be implemented quite easily to most VMS platforms, especially when integrated with the Milestone VMS. Lastly, FLOW Insights allows full configuration any FLOW device to provide a wide range of data visualization options and widgets, allowing the creation of live dashboards or data feeds.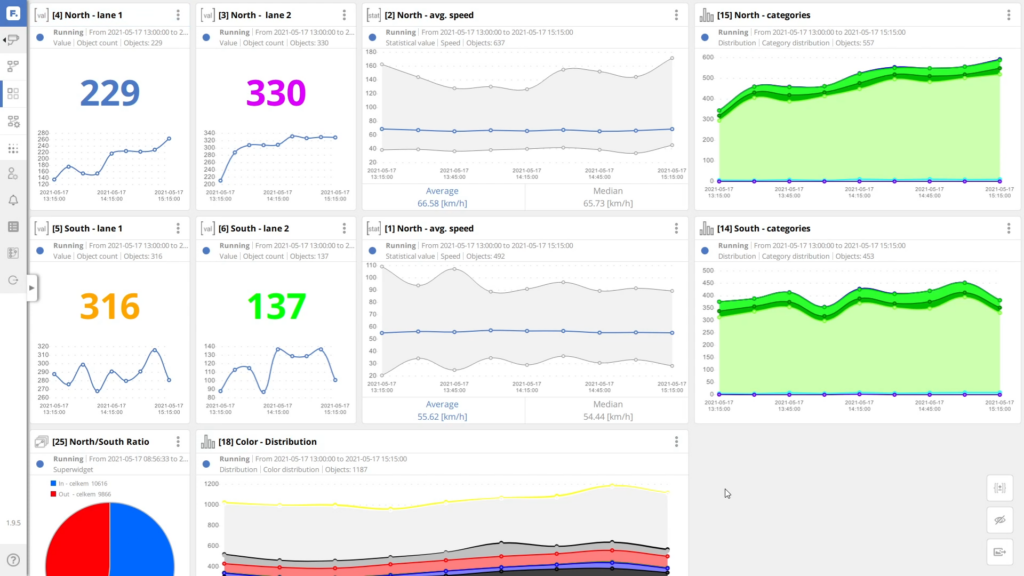 FLOW dashboard example with real-time traffic statistics – data aggregared on the edge device
DataFromSky,  with its 10-year computer vision experience focused on traffic analysis and its cutting-edge FLOW video analytics solutions is leading the charge to deliver traffic sensing technology across the world. With already deployed FLOW products across North and South America, Europe, Asia and Australia, 900 server camera streams as well 80+ of the newest TrafficXROADS units deployed, DataFromSky has taken its first leap to help improve traffic flow, reduce emissions, and protect all road users across whether it is at intersections, highways, roads or tunnels. Join us on the journey! 
Read about our successful projects.
Read more about DataFromSky.
You can explore different use cases in depth on the individual use-case pages or learn in detail about the different FLOW products from the menu on top of the page.
Want to read more? Go back to the BLOG.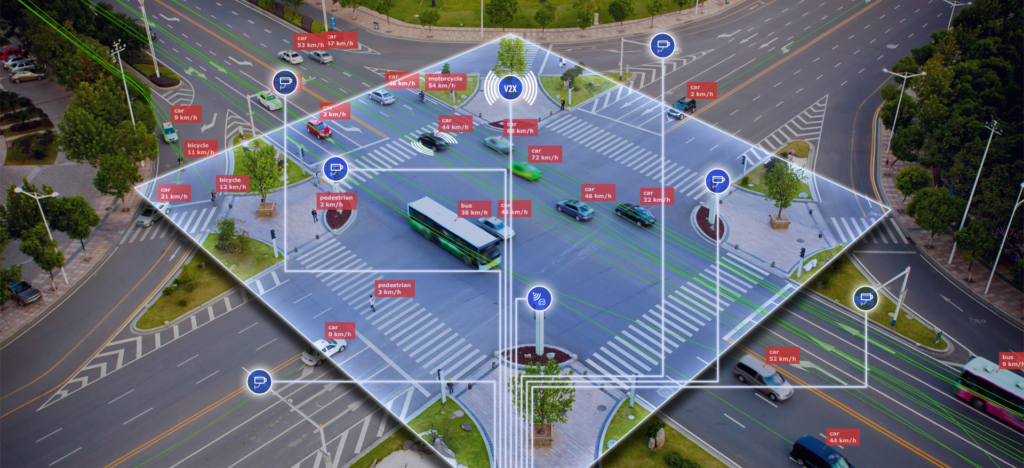 Use cases: 
Traffic control

with data gathering to provide for signal planning input — General traffic management

Product: FLOW – TrafficXRoads
Vertical: Municipality
Location: Florida 
Local Integrators: Smartek ITS
Multimodal detection (16 classes)

– including vehicles, pedestrians, and bicycles (from FLOW v. 1.16.0)

Price competitive

solution with high-quality data
LPR and Dynamic Anonymization
24/7 real-time traffic monitoring
Non-intrusive

nature and

fast deployment

of the solution

Remote and on-demand addition of new analytics features / traffic metrics thanks to

FLOW framework and DataFromSky's flexibility
Smooth integration

with the traffic controller

(direct data communication) – SDLC, I/O Module, UDP sinks and NEMA TS-2 or NTCIP standard communications
Ease of installation, configuration, calibration and operation
Ability to integrate to the existing traffic systems such as Highway Traffic Management System
Ability to export detection data results, even as raw trajectories
Ongoing operation and maintenance services available
Like the story? Share it!