DataFromSky Viewer – analyse every movement
Need to measure traffic flow or count the cars for your traffic studies? Estimate the capacity and efficiency of a roundabout? Measure advanced parameters such as gap time and time follow? Get the ultimate traffic data for your research? Obtain accurate and precise trajectory data – take advantage of the bird's-eye view of a scene.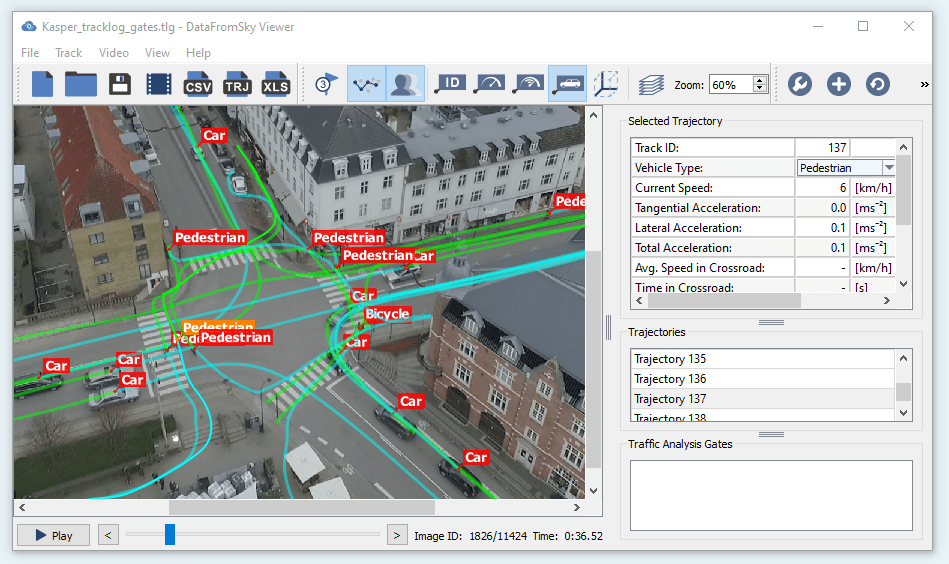 Ultimate solution
DataFromSky Viewer is capable of measuring macroscopic flow characteristics at any point or region required by analyzing all trajectories in that place. Discover anything you want from your trajectory data.
Find out more
Key features
Counting gates definition
Directional counting gates
Selective counting gates
Origin destination matrix
CSV, DXF, TRJ export formats
Report generation functionality
Traffic flow, advanced statistics
Gap time and time to follow
Capacity estimation
Speed and acceleration data
Risk analysis
Classification vehicles
Detection of anomalies
Distance measurements
Download DataFromSky Viewer
Interpret your data from sky in one click.
DataFromSky Viewer software allows you to interpret trajectory data, create amazing reports and visualizations. Imagine having the possibility to define a counting gate at any place you want, get detailed statistics at that place and inspect every road-user in the video. There are no limitations in traffic data-mining thanks to DataFromSky Viewer.
In addition to standard functions, DataFromSky Viewer offers computation of advanced traffic parameters such as gap time and time to follow. Analysis results can be instantly graphed and reviewed, and exported to a variety of output formats for further analysis or presentation purposes.
DataFromSky Viewer powers the most demanding traffic analytical applications. Leading research universities use this software in various research applications. DataFromSky Viewer provides comprehensive and rich data about moving objects and processing tools.
Your satisfaction is our priority
You can count on personal support from our team. We are ready to assist you with the correct use of DataFromSky solutions. We modify the software according to the client's needs and requirements. Should the client request a report as a part of the output, we will arrange for an interpretation of the data by our partners – traffic analysts and university scientists.