Assessing roundabout safety in Denmark
Road safety is critical for both pedestrians and cyclists. To take the right steps towards increasing it, municipalities need to make data-driven decisions. The town of Slagelse in Denmark, striving to improve their roundabout safety, asked their partner COWI to analyze the situation. To do a detailed analysis, COWI utilized AI- based traffic analysis tools by DataFromSky.
In Denmark road safety is considered to be very important in traffic planning and it is given top priority in general. There is a goal to reduce the number of fatal accidents on roads by 50% from 2019 to 2030. This sets the level of ambition for working with traffic safety in the municipalities. In Denmark bicycles are very popular so in order to achieve the goal, traffic safety needs to improve for cyclists as they are vulnerable road users.
This specific roundabout in Slagelse was a part of a traffic safety initiative across the entire municipality. There were multiple traffic accidents with cyclists, so the task was simple – make the roundabout safer based on the actual data.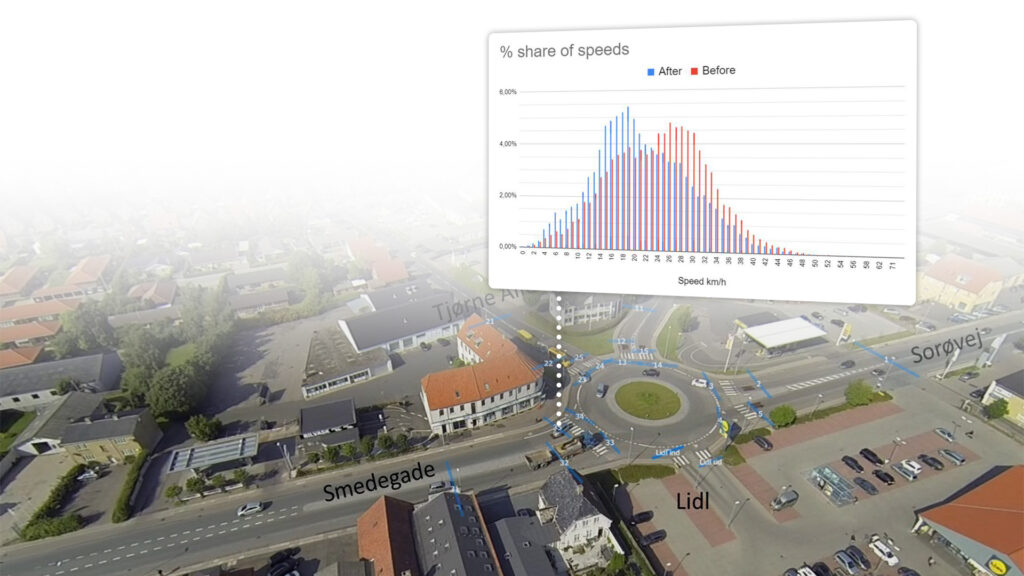 Roundabout in Slagelse with counting gates and street name labels
Utilizing video analytics
To increase safety in the roundabout, it was necessary to determine the flow and movement of all road users passing through the roundabout every day. The municipality approached the COWI consulting group to conduct the study and suggest improvements. Back then, COWI already had significant experience with drone traffic safety analytics, so they decided to apply this successful method to get accurate traffic data for all road users in the roundabout.
Thanks to fully automated DataFromSky TrafficSurvey service, COWI received accurate trajectory data for each road user that were extracted from aerial videos. They uploaded the file to the fully automated online platform, applied geo-registration and requested 100% guarantee service to reach the ultimate precision in the traffic data. Geo-registration allowed to analyze distances and speeds of all objects for every millisecond of the footage and a 100% precision guarantee ensured that all traffic objects were tracked accurately.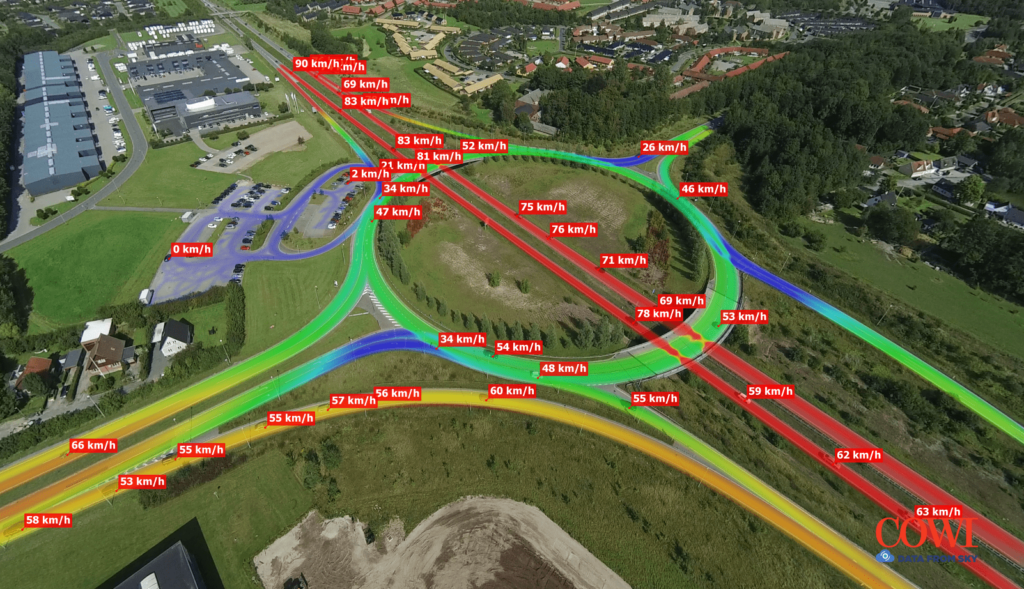 Another example of speed analysis (heatmap) of a bigger roundabout with COWI
With our TrafficSurvey you can not only measure speeds but you can also conduct comprehensive traffic safety analysis and get data on Time to collision(TTC), Post encroachment time or Heavy braking. The TTC is predicted based on micro simulation kinematic model that is in essence able to detect near accidents. With 100% guarantee service you can automatically detect and and easily visualize all of these road safety analysis results. Below you can watch our Traffic Safety Analysis webinar that explains in detail what data you can get, how you can use it and also showcases real studies that used the Traffic Safety Analysis tools.
After recording the first footage with the drone, COWI was able to set up advanced filters to get the desired data outcome for their analysis. They found out that the average speed in the roundabout was 24,7 km/h. Based on that, COWI suggested the municipality of Slagelse to install speed bumps on each inbound and outbound lane to and from the roundabout.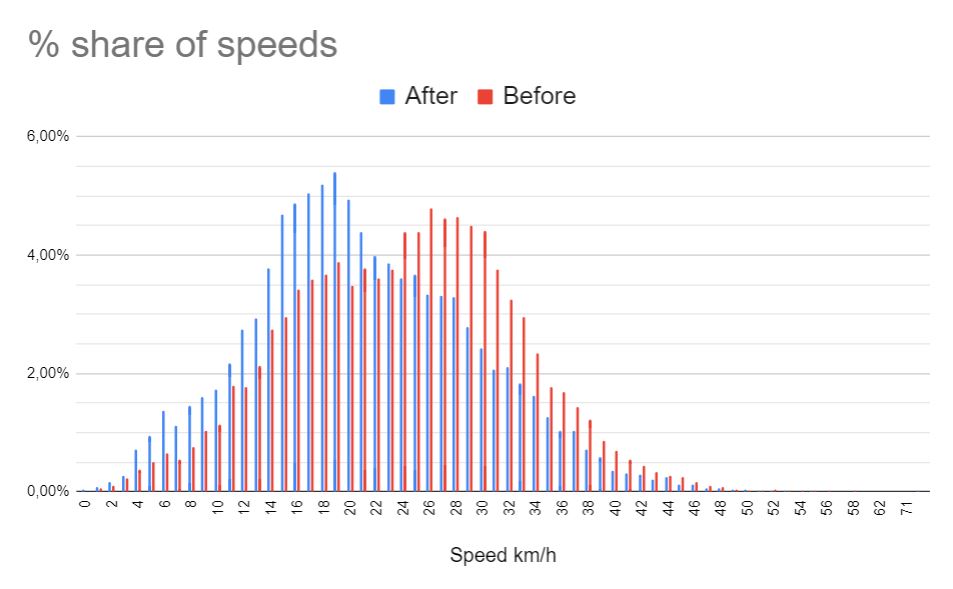 Before and After (speed bump installation) comparison of speeds in the roundabout
After the installation, COWI conducted another drone shooting to do the post-analysis and provide a full evaluation of the effect on speed bumps. The positive change was obvious as the average speed had been lowered to 13,7 km/h, proving a significant reduction. Details of the analysis can be found in the chart above, where the data are visually presented.

Want to read more? Go back to the BLOG.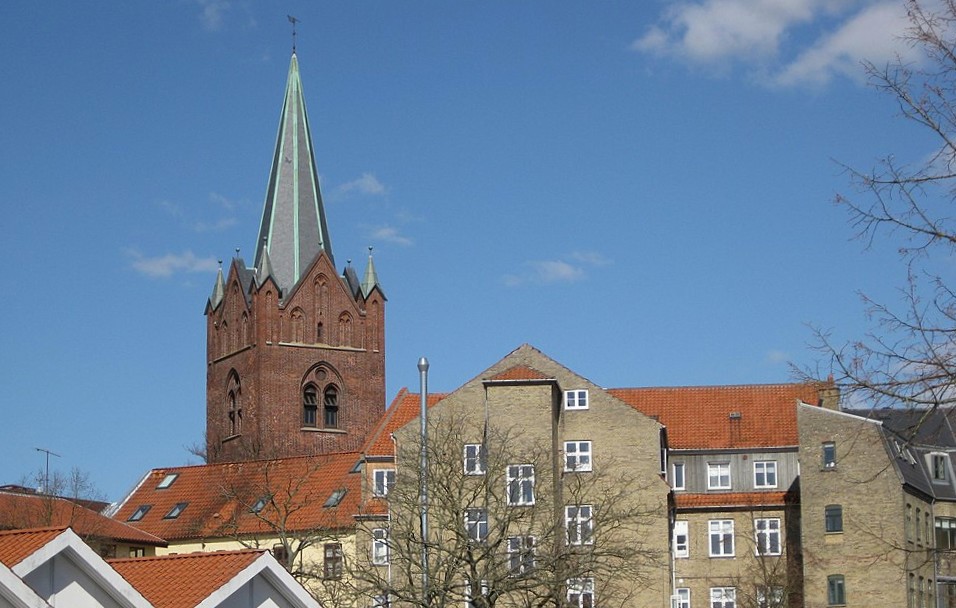 Use case: Traffic safety
Product: Traffic Survey
Vertical: Municipality
Location: Scandinavia
Slagelse is a town located on the Zealand island in Denmark, being approximately 100 km from the capital Copenhagen. The town has more than 35.000 citizens and covers an area of 16,2 km2.
Decrease in car speed was detected thanks to the newly installed speed bumps.
Thanks to advanced filtering options of TrafficSurvey, our partner COWI was able to get rich insights in no time.
Our AI-powered speed measurement helped COWI to assess the impact of proposed improvements.
As a premium partner of DataFromSky, COWI has exclusive rights for utilization of our tools in Scandinavia. For more information about this project, feel free to contact:
Line Degn Laden: lian@cowi.com
Jonas Olesen: JOOL@cowi.com