Implementing parking system for a train station near Copenhagen to support commuting by train
Cities face many challenges and parking is one of the more significant ones. One way of dealing with insufficient parking space in cities is to encourage more people to come to the city by public transport. This additionally requires specific infrastructure in place but it also comes with more challenges. For many commuters, their daily journey involves driving to the train or bus station, parking, then catching the train or the bus. Sounds easy enough, but a lack of parking spots often leads to frustration and wasted time, and can even lead to missing the transport they were trying to catch.
To improve public transportation access to the nearby capital of Denmark, Copenhagen a Køge Nord train station was built together with a large parking lot and a smart parking system. This system called ParkingDetection was delivered by DataFromSky. ParkingDetection was a great fit for creating an easy-to-manage parking lot as it offers a wide variety of smart parking features such as individual parking space occupancy detection, mobile app occupancy visualization, or navigation to free parking spaces on site. Moreover, the system was ideal for this project as the installed cameras made it possible to monitor up to 90 parking spaces at once. The solution was delivered in cooperation with COWI, our partner for Nordic countries, and local integrator ScanView.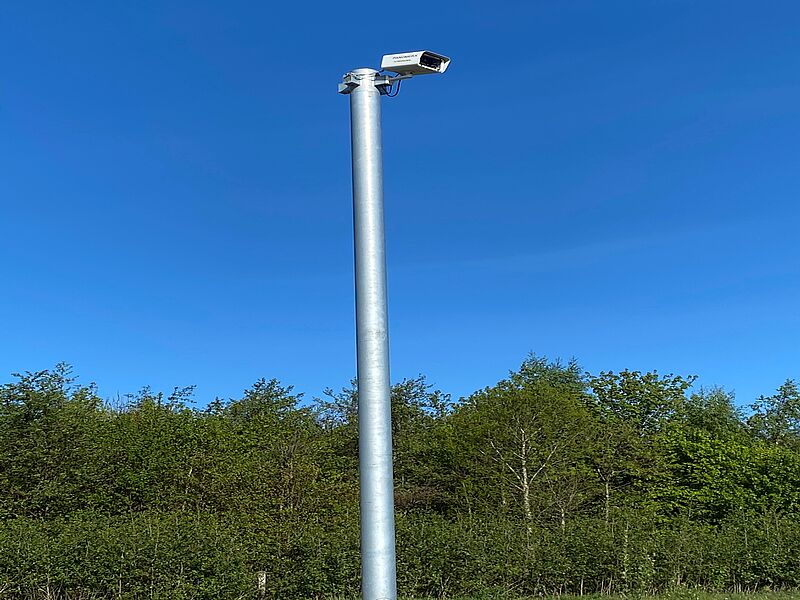 One of the cameras installed on a tall pole for monitoring the parking lot
In 2019 the municipality of Køge, Denmark constructed a regionally significant train station for commuters. An important traffic center for the entire metropolitan area. A unique hub where high-speed trains, S-trains and motorways met. More than a thousand passengers used Køge Nord train station daily for either commuting or simply traveling to the capital of Copenhagen. The majority of commuters used cars to get to the train station and then switched to the train to finish the commute to the capital. This required building a parking lot with over 650 parking spaces. On top of that, the requirement for this project was to monitor the parking occupancy to provide real-time data for smoother and faster parking and traveling. The decision was to use cameras with an advanced AI video analytics system for this task as the implementation of individual ground sensors would be inefficient for 650 outdoor parking spots. What is more, a camera-based system is able to cover multiple parking spots at once and is non-intrusive to the parking's surface. DataFromSky together with COWI and ScanView proposed a solution using ParkingDetection, a FLOW-powered AI video analytics system for real-time parking occupancy detection.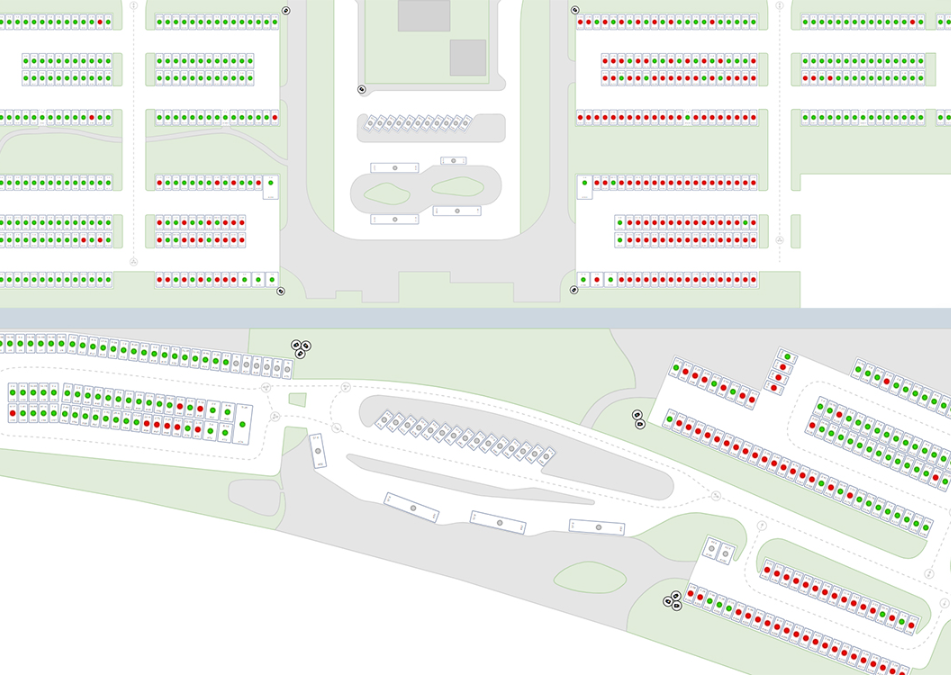 Live map of the parking lot occupancy in the ParkingDetection CMS system
The solution included 25x high-resolution Dallmeier cameras for the monitoring of the parking spaces. This approach made the implementation very cost-efficient thanks to the fact that only 25 cameras were needed to cover 650 parking spaces – on average one camera per 26 parking spaces. Each camera was installed on an individual pole or a lamp post in height ranging between 8-10m. These cameras had a dual use – parking occupancy and security. A constant power supply, as well as network connectivity, was provided by the system integrator ScanView, who implemented the whole project. The image data from the cameras was processed using AI video analytics on one centralized GPU server making data aggregation and maintenance easy. Lastly, several LED panels around the parking lot, Køge city, and motorway were installed to navigate drivers.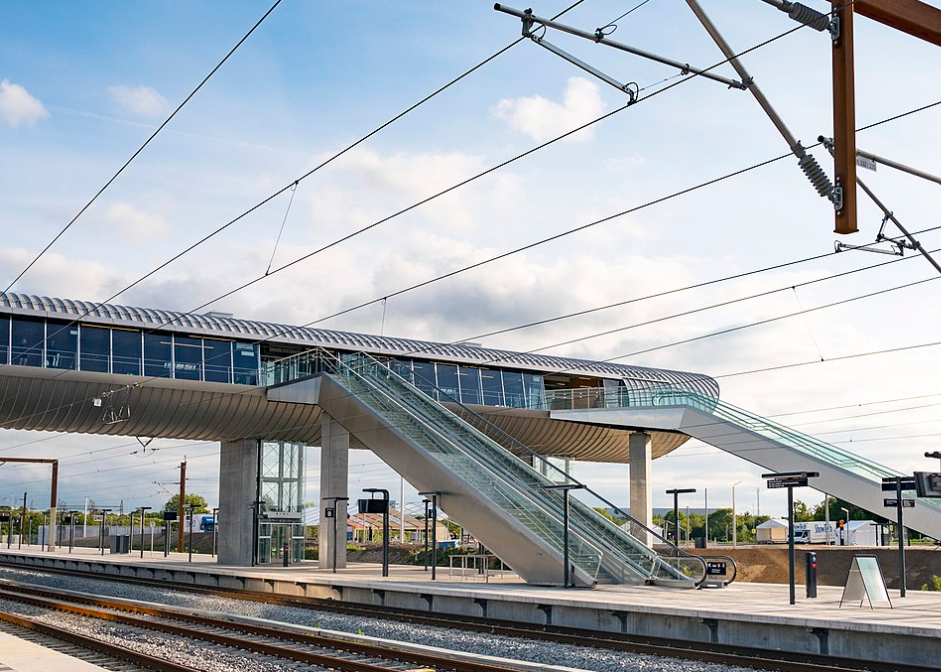 In regards to software, the DataFromSky ParkingDetection, an intelligent parking management system was used. The AI video analytics is able to not only detect the parking spot occupancy but can also be used to monitor the duration of stay, sort the vehicle into 5 different classes, or even read license plates for installations with good camera angles. The system consists of two important parts: the setup interface where individual parking space monitoring is set up via a desktop application FLOW Insights, and secondly the CMS web interface where all the analyzed data is neatly visualized, including the raw camera streams. The web interface also has a schematic of the entire parking lot with real-time visualization of the occupancy of all the parking spots. Moreover, it gathers real-time, short term and even long-term statistics about the occupancy of the parking lot for a better understanding of parking trends and situations over time.

The project was successfully delivered couple of years ago and it is still running well even now in 2023. Thanks to the way the solution was designed it is easy to maintain and it is even possible to adjust the parking monitoring detection if needed – all thanks to the FLOW video analytics. If you would like to find out about more similar projects, have a look at other Success Stories or get in touch to learn more about DataFromSky.

Want to read more? Go back to the BLOG.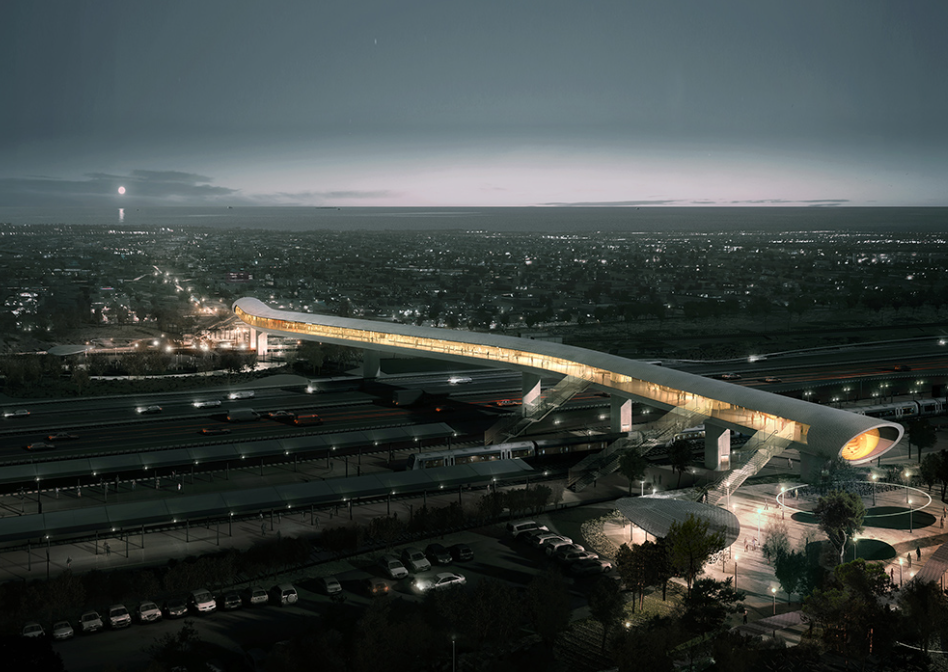 Use case: Parking
Product: ParkingDetection
Vertical: Municipality
Location: Køge – Denmark
Local Integrators: COWI and Scanview
Koge Nord train station is a important traffic hub 35km from the Denmark's capital Copenhagen. It was opened in summer 2019. It is under the jurisdiction of Køge municipality that has a total population of 60,675 people. Thanks to its special design, it crosses 2 rail lines with 6 platforms and 8 motorway lanes.
650 parking spots covered with only 25 cameras
Thanks to careful design for the placement of the cameras and the nature of the ParkingDetection system only small number of cameras were needed as some of the cameras covered up to 90 parking spots.
Server-side processing of the image data
Due to the large-scale nature of the project instead of edge processing units a server was used for easier data aggregation and HW maintenance.
More than 98% detection accuracy
Thanks to a unique monitoring approach and our software's self-correcting feature, the customer gets highly precise data about each parking spot.