Improving safety around Danish schools
Viborg municipality in Denmark that is responsible for all the primary and secondary schools in its area. As road safety is crucial in the schools' surroundings, the municipality wanted to pinpoint all the problematic areas. The main goal was to understand if the current design was safe for both cyclists and pedestrians coming to and back from school, as well as to get deeper insight into drivers' behavior (parking habits, conflicts at zebra crossings, etc.). All of these data served as a basis for new safety measures that were used during design adjustments. 
2023 Update: COWI has presented TrafficSurvey on a conference in Sweden – Sundsvall  showcasing many new school safety studies.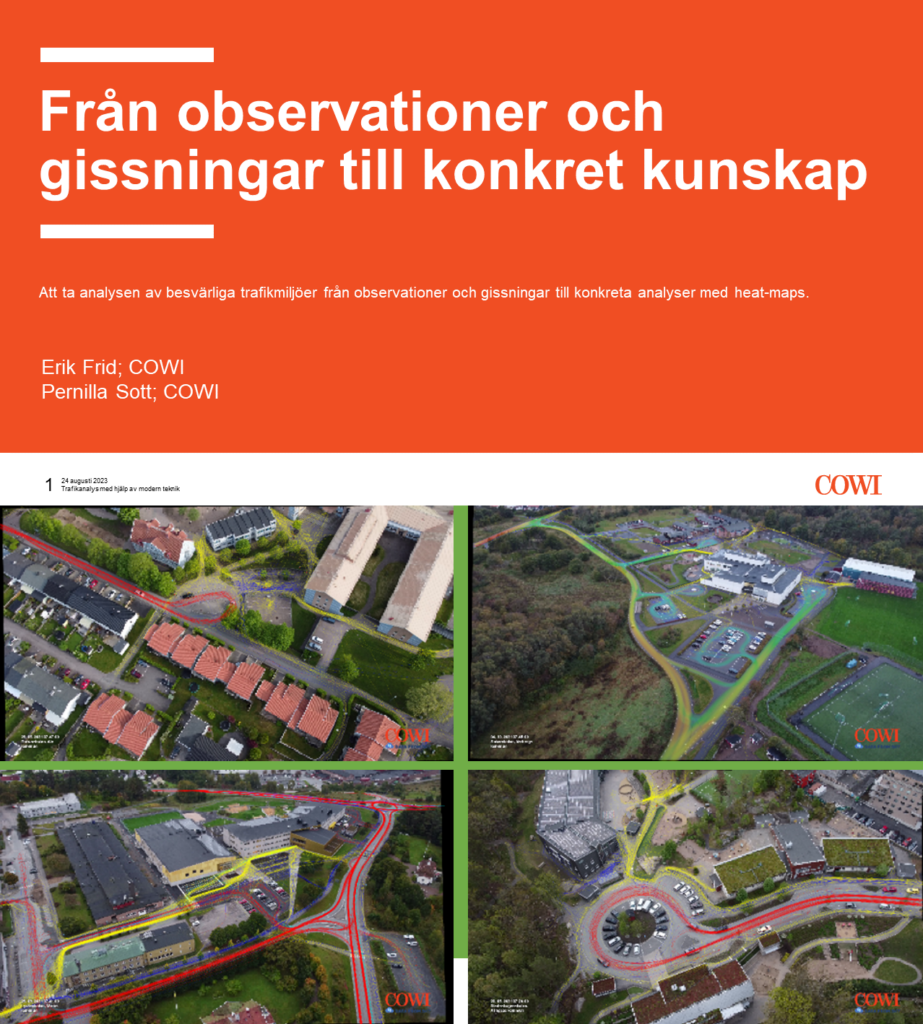 Example school safety analyses presented at the conference in Sweden in 2023
As road safety around schools is crucial, the municipality of Viborg wanted to pinpoint all potentially problematic areas. The main goal was to determine if the current design was safe for both cyclists and pedestrians arriving to school, as well as to get deeper insight into road users' behavior (parking habits, use of zebra crossings, etc.).
All of these data should serve as a basis for new safety measures that will be used during upcoming design adjustments.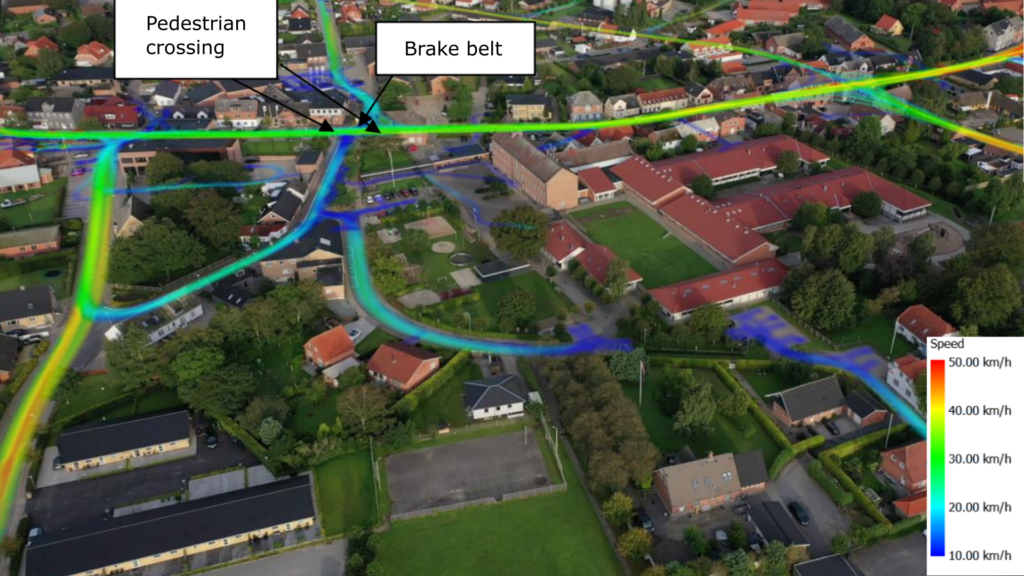 Analysis of vehicle speeds in the area visualized in a heatmap

Instead of using old-fashioned manual counting, COWI decided to utilize a more modern approach, recording each of the areas with a drone capable of capturing the entire area from a single spot. Usually, the recording was done 20 minutes before 8 AM, when most of the lessons start in Denmark. This will ensure that the drone recording captures the period with the heaviest traffic in the areas.
Afterwards, COWI used DataFromSky TrafficSurvey online platform to get the desired insights. This way, our partner received an insight into traffic counts for each road user category and detailed information about people's preferences of roads and parking lots. Furthermore, it was possible to track down the movements of cars, bikes and pedestrians and inspect the crossings of their trajectories. With custom visualization functions of the TrafficSurvey Viewer, our partner was able to create well-arranged heatmaps of each vehicles' speed, making it easier to spot where the most dangerous situations occur.
Moreover, thanks to the program's safety analysis feature, COWI could calculate important safety measures such as time-to-collision or post-encroachment time to investigate the risky situations even further.

Aerial footage of the school with highlighted pedestrian trajectories


Counting of traffic coming to and from the school from different directions
Thanks to the rich data provided by the TrafficSurvey service, COWI was able to deliver elaborate documentation of the situation, as well as detailed information on traffic counts, pedestrian & car trajectories, zebra crossings or parking lot usage .
Several problematic areas were pinpointed around the schools, making the municipality aware of potential risks.
In many cases, new measures were undertaken to redirect the traffic and minimize the risk of collisions and make the journey to school safer for everyone.

Want to read more? Go back to the BLOG.
Use case: Safety analysis
Product: TrafficSurvey
Vertical: Municipality (Viborg)
Location: Scandinavia
About Viborg municipality
Located on Jutland peninsula in northern Denmark, the municipality consists of 45 towns, with Viborg town being the capital. With the number of inhabitants of around 100 000, Viborg municipality accounts for one of the larger Danish municipalities.
26 schools' surroundings analyzed
26 school areas were analyzed using drone recordings to get a complete overview of the traffic situation upon school start.
Minimizing of collision risks
Many children arrive at school on foot or by bike, being endangered by car users. One of the goals of the study was to reduce the risk of accidents.
Detailed analysis for each road user
Thanks to DataFromSky TrafficSurvey, COWI was able to track all road users (mainly pedestrians, cyclists and vehicles) and analyze their trajectories individually.
As a premium partner of DataFromSky, COWI has exclusive rights for utilization of our tools in Scandinavia. For more information about this project, feel free to contact:
Line Degn Laden: lian@cowi.com
Jonas Olesen: JOOL@cowi.com