Intertraffic Amsterdam 2022 - Summary
After a long four-year wait Intertraffic Amsterdam finally took place. This was the first time DataFromSky exhibited at this educational and networking event. At our very busy stand, we presented our latest solutions for adaptive traffic control, smart parking, traffic safety and smart city platforms. All these live and awesome use-cases were powered by the award-nominated universal traffic framework FLOW. In addition to the live demo panels, we also hosted a few interviews with our technology and business partners like AXIS or SmartMicro (see the records below).
Thank you for visiting us! It was a really amazing event.
FLOW on AXIS - Andrea Sorri
This discussion shares the details of our traffic monitoring and management framework FLOW which makes the cameras collaborative for trajectory and other data merging for the entire intersection. This allows us to gather more robust data for adaptive control. Tomas Sarocky then mentions how municipalities use our platform to gather traffic statistics to understand how traffic flows in cities. The FLOW is available as an ACAP application too for AXIS cameras with DLPU. You can try the trial and-or contact us for a LIVE demo.

Advanced traffic radars in FLOW - Daniel Reitenauer, SMARTMICRO
In this interview with Daniel Reitenauer we focus on our recent integration of traffic radars. The newest radars from Smartmicro can be used by our FLOW for traffic monitoring and control for robust detection in any weather condition. Radars also allow us to detect objects in 3D, opening additional possibilities such as object dimensions measuring and the combination of the radar data with all the other data that FLOW can extract from cameras. Daniel also highlights the use of their new radars for autonomous driving vehicles that might be used in the future together with our V2X technology and praises FLOW's ability to easily visualize and communicate the gathered data via the dashboard.

Adaptive traffic with smart cameras - Josip Ratkaj, TRAFF SIGNAL
This interview is really special as it goes over the rapid deployment of our smart cameras with FLOW on-board video analytics for adaptive traffic control. This was done with our partner Traffsignal, a controller manufacturer from Croatia. They utilize our advanced video analytics for the detection of all road traffic participants and use this data for traffic control. The senior engineer Josip Ratkaj also praised us for fast response times and great support but also quick implementation of requested customizations all of which we were very honored to hear. He also shared the future plans of providing the traffic data collected by FLOW framework publicly to the municipality to allow drivers to check the current traffic flow.

Interview with Kateřina Sequensová, the Czech Ambassador for the Kingdom of Netherlands
It was a great honor to host the ambassador Kateřina Sequensová on our stand to present to her our state-of-the-art solution. She mentioned the well-designed Dutch transportation and how the products of Czech Companies such as FLOW can help to make it even better. She was delighted that the event could finally happen after COVID restrictions have been lifted as she deemed it very important for businesses to help them find both new customers and forge new partnerships. We are very grateful for the ambassador's visit.

Want to read more? Go back to the BLOG.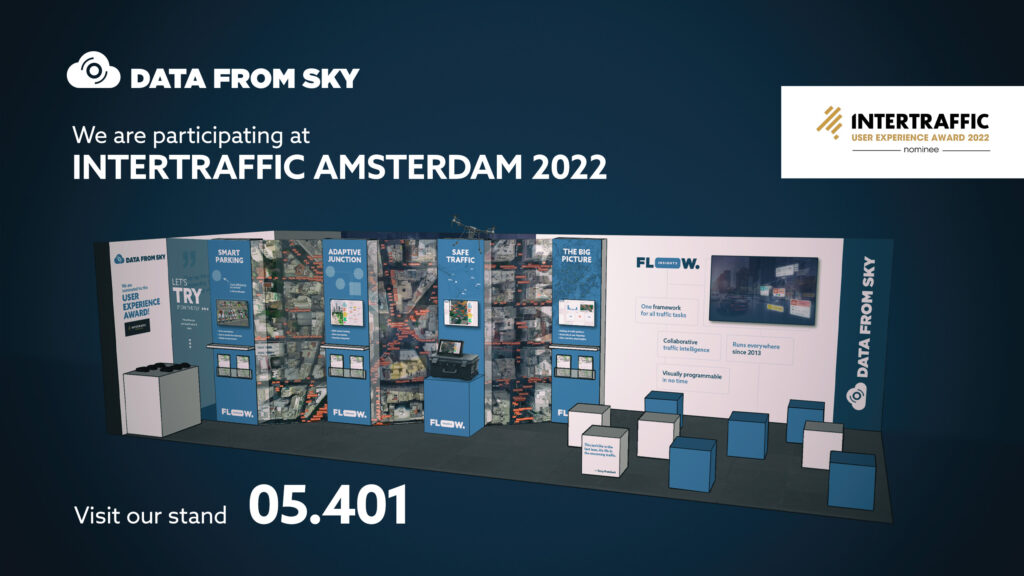 Name of the event: Intertraffic Amsterdam 2022
Took place: 26/03 – 01/04 2022
Location: Amsterdam RAI
Hall: Traffic Management

Booth: 05.401 (40m2)

NEW – TrafficXRoads: in-controller box installation for adaptive traffic management with up to 6 cameras
NEW TrafficDrone: Mobile rapid-deployment edge processing unit for surveillance and traffic monitoring
NEW TrafficCamera: All-in-one plug and play edge solution

TrafficEnterprise:

server-side processing solution with easy integration with existing camera networks

ParkingDetection:

multipurpose real-time parking management system with comprehensive web interface and own mobile application

TrafficSurvey:

Advanced traffic data from offline processing of videos at an affordable price
More than 500 stand visitors

1 used experience AWARD NOMINATION



4 recorded interviews
Like the story? Share it!