The following brand assets – particularly versions of our logo – constitute our brand identity.
Please do not modify them in any way when you use them for propagation, attribution or other purposes. Converting the vector version to bitmap is allowed, of course!
You are not allowed to use our logo in any way suggesting endorsement without explicit permission from us.
DataFromSky
Logo with text


Download:
» SVG
» PNG rendering (1369 x 172)

Logo without text


Download:
» SVG
» PNG rendering (251 x 170 px)

Colors
[table th="0″] Logo primary:,

, 4b79c6
Logo center:,

, 00adef
Text:,

, 2a426d
[/table]
Logo margins
When using the logo, please honour the minimal margins specified here: The cloud should have a margin of at least 1/5 its height, and the text should have a margin of its stroke width.


RCE Systems
Logo in color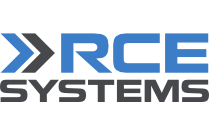 Download:
» SVG
» PNG rendering (733 x 267)

Colors
[table th="0″] Blue:,

, 3c7dc8
Gray:,

, 46484b
[/table]