[:en]In many cities, there are places where many road users pass or stay in a complicated network of routes and get into a risky interaction. It can be difficult to get an overview of the whole situation and define the "hot spots" where the traffic behavior is simply non-standard. Our tool Data From Sky is in most cases be able to uncover, sort and analyze all movements of vehicles, cyclists and pedestrians in a larger area and evaluate critical parts of a road network, that might be risky for any traffic participant. This kind of overview and analysis can give traffic and urban planners a very good starting point for designing any adjustments.
The figure below shows an area in the city of Aarhus in Denmark and displays the flow of cyclists (pink trajectories) and pedestrians (green trajectories) in the 2-hour period. The main goal of the analysis is to provide the Aarhus Municipality with an overview of cyclists and pedestrian movement in the analyzed area and identify some patterns in their traffic behavior.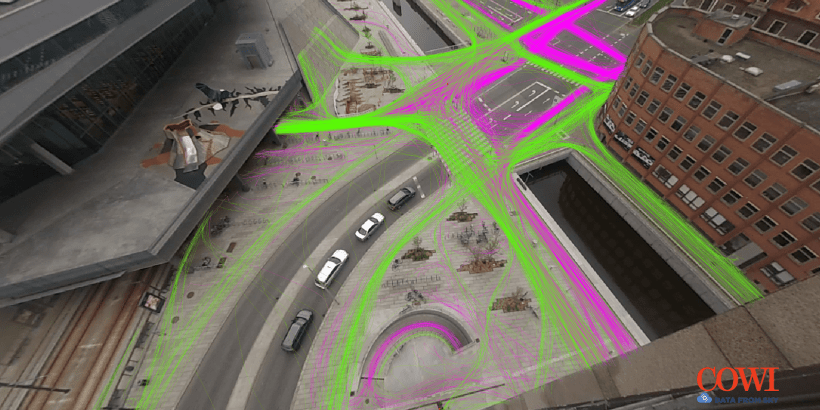 After having formed a detailed overview of all the different flows and routes, author of this study (Birger Villadsen, Traffic Specialist at COWI) has focused on those areas, where cyclists' and pedestrians' behavior gets into a collision. The detailed DataFromSky Analysis helped to analyze the problematic spots and draw up proposals for changes, that can help to simplify the traffic flow. Aarhus Municipality will evaluate the list of proposals and test them on the site by making temporary changes and observing whether they have the intended effect before the changes are implemented permanently.
*full article can be found at Cowi Creators blog. [:it]In molte città, ci sono luoghi dove molti utenti della strada passano o rimangono bloccati in una fitta rete di percorsi e vengono a contatto con rischiose interazioni. In questi casi, può essere difficile avere una panoramica dell'intera situazione e definire i "punti caldi" in cui il comportamento del traffico è anomalo e irregolare. Il nostro strumento Data From Sky è in molti casi in grado di intercettare, classificare e analizzare tutti i movimenti dei veicoli, ciclisti e pedoni in un'ampia area e valutare le parti critiche di una rete stradale, che potrebbero essere rischiose per qualsiasi partecipante al traffico. Questo tipo di panoramica e analisi può dare ai pianificatori urbani e del traffico un ottimo punto di partenza per la progettazione di eventuali adeguamenti.
La figura sottostante mostra un'area nella città di Aarhus in Danimarca e presenta il flusso di ciclisti (traiettorie rosa) e pedoni (traiettorie verdi) nel corso di 2 ore. L'obiettivo principale dell'analisi è fornire al comune di Aarhus una panoramica dei movimenti pedonali e dei ciclisti nell'area analizzata e identificare dei modelli che riproducano il loro comportamento nel traffico.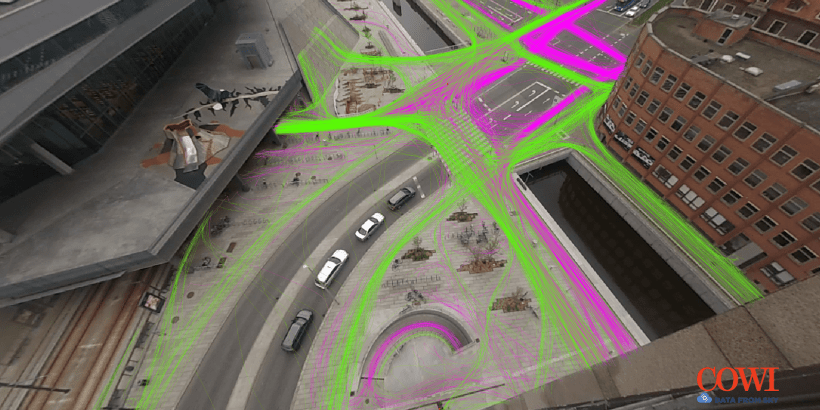 Dopo aver creato una panoramica dettagliata di tutti i diversi flussi e percorsi, l'autore di questo studio (Birger Villadsen, Specialista del Traffico presso il COWI) si è concentrato su quelle aree in cui il comportamento dei ciclisti 'e dei pedoni' entra in collisione. L'analisi dettagliata DataFromSky ha supportato l'analisi dei punti problematici e ha elaborato delle proposte di modifica, che possono aiutare a semplificare il flusso del traffico. Il comune di Aarhus valuterà l'elenco delle proposte e le testerà sul sito apportando modifiche temporanee in modo da verificare se hanno l'effetto desiderato prima che le modifiche vengano implementate in modo permanente.
*l'articolo completo può essere consultato su Cowi Creators blog[:]
Read more